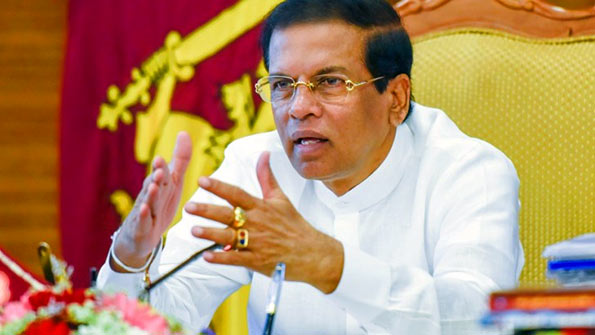 The President further added that he took measures to interdict several state officers of the Geological Surveys and Mines Bureau (GSMB) for allegedly failing to perform their duties. President Sirisena was addressing the inaugural session of the Green Dream 2017 (Haritha Sihina) exhibition, near the Kurunegala tank area yesterday. "The GS&MB should be held responsible at the controversial soil removing in Gampaha since this racket has been going on for over 20 years until it came to light with the involvement of Social Empowerment and Welfare Deputy Minister Ranjan Ramanayake," President Sirisena said.
The President said that in accordance with the investigations carried out into the issue, it has been revealed that the soil removed from the site, has been used to fill the Muthurajawela marshland, which is undoubtedly a environment protected area.
"It has been estimated that over 60,000 cubes of soil have been removed from the site," the President said.
"As the GS&MB officers failed to attend to the matter, I took measures to interdict several officers and order a full scale investigation into the matter," President Sirisena noted.
The President said that the relevant officials failed to detect whether the permit holder operated according to the law.
President Sirisena added that realising the dream of a green country is a huge challenge for the government and recalled the large scale environmental degradation taking place due to the soil mining in the Gampaha district recently.
"A comprehensive investigation is being conducted regarding the actions of the relevant officials.
"No one knows where the soil was being transported to.Six months ago,State intelligence officials reported to me that some villagers in the Warakapola area were blaming me for illicit sand mining activities in the area. I put a stop to all these illegal activities as well," the President said.
President Maithripala Sirisena said some people are causing large scale environment damage due to lack of awareness on the value and importance of protecting nature.
"Large scale scale soil and sand mining have resulted massive environmental degradation," the President added.
(Source: Daily News – By Kumari Dissanayake)