President orders HALT TO ALL CONSTRUCTION AT MUTHURAJAWELA
Posted by Editor on March 23, 2018 - 8:17 am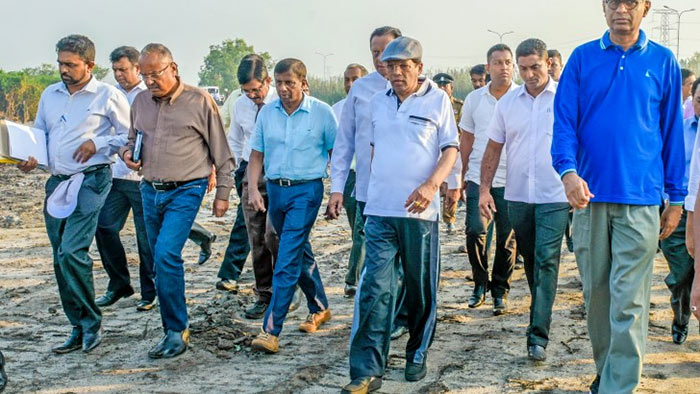 President Maithripala Sirisena yesterday directed relevant sections to put an immediate halt to ongoing construction work, land reclamation and other activities carried out in the Muthurajawela Sanctuary area which are causing destruction to the environment.
The President said all permits given by any state institution for this type of activity of any should be cancelled and withdrawn forthwith.
The President issued this order when he visited the Muthurajawela wetland area on an inspection tour following continued media reports about alleged environmental destruction caused in an around the Muthurajawela sanctuary, at a special discussion held with Ministers and Parliamentarians representing the area, state officials and security personnel.
The President also directed officials present to seek legal opinion about the possibility of declaring the area as a Wildlife and Environmental Reservation Zone including the land area through a gazette notification.
President Sirisena who said reclamation or construction work could not be permitted even in a land with full title ownership, if it causes destruction to the environment, stressed that he would never hesitate to take action against any political force if it was behind these activities.
The President also directed the IGP to provide STF security to the area to thwart environmental destruction and deploy Police check points on access roads to the region.
The President said even permits issued by the Geological Survey and Mines Bureau for places supplying earth to reclamation work in the area if any should also be cancelled immediately.
(Source: Daily News)
Latest Headlines in Sri Lanka