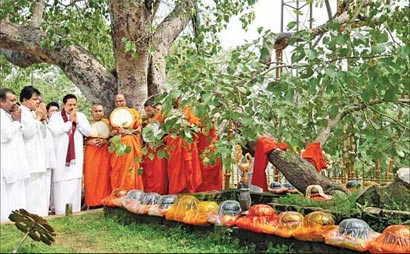 President Mahinda Rajapaksa visited Anuradhapura yesterday morning and paid homage to the Sacred Jaya Sri Mahabodhi seeking blessings for the New Year. The President who was accompanied by First Lady Shiranthi Rajapaksa and son Parliamentarian Namal Rajapaksa offered a cheevara and pirikara pooja to the Sacred Bodhi.
The Mahasangha led by Atamasthanadhipati Ven Dr Pallegama Siriniwasa Nayake Thera, Mirisavetiya Cetiyaramadhipati Ven Eathawetunuwewa Gnanatilleke Nayake Thera and Lankaramadhipati Ven Ralapanawe Dhammajothi Nayake Thera chanted sethpirith and invoked blessings on the President and party after tying a pirith noola on the President's hand.
Earlier, President Rajapaksa accompanied by the First Lady and Namal Rajapaksa called on Atamasthanadhipati Ven Dr Pallegama Siriniwasa Nayake Thera at his aramaya and received his blessings after making an offering of atapirikara.
Thereafter the President called on Ruwanweli Cetiyaramadhipati Ven Pallegama Hemaratana Thera and received his blessings after offering atapirikara to the prelate.
The President then offered malpahan pooja at Ruwanweliseya. After offering mal pooja at the statue of king Dutugemunu at the precincts the President exchanged pleasantries with the crowd of devotees present.
The President accompanied by Agrarian Services and Wildlife Minister S M Chandrasena visited the Dansala (Dolosmahe Swarnamali Danveta) organized by the Sinhala Buddhist Foundation and served food to the devotees attending the dansala. NCP Governor Karunaratne Divulgane, Chief Minister Berty Premalal Dissanayake, Parliamentarians Shehan Semasinghe and S P Muthukumarana, Provincial Minister H B Semasinghe and Provincial Council Member S M Ranjith were also present on the occasion.
Courtesy: Daily News