We believe that a home-grown solution is the best solution for Sri Lanka – Lankan Envoy
Posted by Editor on December 29, 2011 - 1:24 pm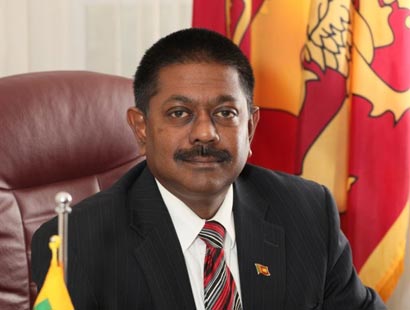 Sri Lanka will hold accountable every person accused of war crimes during its decades-long civil conflict, the island nation's ambassador to the U.S. Jaliya Wickramasuriya says.
Ambassador Jaliya Wickramasuriya said the suspects' names are disclosed in eyewitness testimony that is posted on the website of the government-appointed commission that issued the LLRC report.
"There are no names [in the report], but there is a process to check accountability," Mr. Wickramasuriya said in an interview with editors and reporters at The Washington Times.
The Sri Lankan government has opposed an international investigation, and Mr. Wickramasuriya said that position has not changed.
"We believe that a home-grown solution is the best solution for Sri Lanka," he said.
The Sri Lankan army declared victory over the rebel Liberation Tigers of Tamil Eelam in 2009, ending a war that spanned nearly three decades and killed thousands of people.
President Mahinda Rajapaksa appointed the Lessons Learnt and Reconciliation Commission in May 2010 to examine the war and post-conflict efforts.
State Department spokeswoman Victoria Nuland told reporters last week that the report does not fully address all the allegations of human-rights violations that occurred in the last phase of the conflict.
The government's preliminary action plan does not provide the kind of "detailed road map that we had hoped to see for fulfilling all of the commission's recommendations," she added.
Mr. Wickramasuriya said Ms. Nuland's comments were inaccurate."We were very upset about that statement," he said. "The U.S. is one of our very good friends, and we are a democratic country in the region. Sri Lanka should be credited at this time."
Moreover, the report adequately addresses the last days of the conflict, the diplomat said.
Mr. Wickramasuriya said Sri Lanka's military had undertaken a "humanitarian operation" during the war to protect civilians, noting that government forces needed two years to clear rebels from their eastern and northern strongholds.
"If we weren't concerned about civilians, clearing that area wouldn't take that long," he said, acknowledging that there had been some civilian casualties.
Source: Government News Portal
Latest Headlines in Sri Lanka