Luxury bus service on Southern Expressway
Posted by Editor on December 30, 2011 - 7:49 am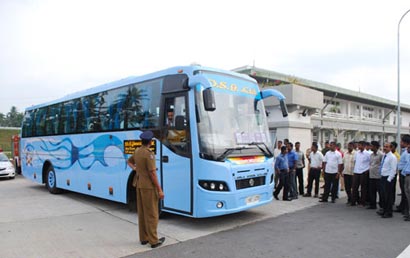 Arrangements have been put in place to commence a luxury bus service on the Southern Expressway from the first week of January next year.
Four 48 seater buses from the Sri Lanka Transport Board and the National Transport Commission will be provided during the initial stage.
Buses will ply from Kottawa to Galle and Galle to Kottawa.
SLTB chairman M D Bandusena told the Daily News that buses of high standard had been purchased by the SLTB from Lanka Ashok Leyland Company with a concern for passenger safety. "Well experienced drivers and luxury coaches are a must to operate transport services on the expressway and we have trained drivers in this regard," he said.
The total distance will be 107.9 kilometres, while charges will be Rs. 380 per person. He said that the SLTB bus service will commence from the Maharagama bus depot and the bus fare from Maharagama to Galle per person would be Rs. 400.
Meanwhile, the National Transport Commission (NTC) will also deploy two private buses on the expressway. The NTC Spokesman said these two buses had been selected after calling for tenders with Cabinet approval. As drivers need to be well-trained to use the Southern expressway, we have taken measures to train both drivers and conductors. In addition, both SLTB and private buses will provide TV facilities and newspapers as well. Seat belts are mandatory for all passengers."
The number of both SLTB and private buses will be increased in the future according to passenger needs.
Courtesy: Daily News
Latest Headlines in Sri Lanka