Presidential Comm. to probe GCE (A/L) results mess up
Posted by Editor on December 30, 2011 - 8:55 am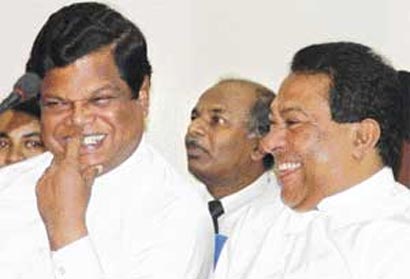 President Mahinda Rajapaksa would appoint a committee to probe the District ranking mess up of the GCE (A/L) examination results 2011, Education Minister Bandula Gunawardena said.
Addressing a packed media conference at the Examinations Department auditorium, Minister Gunawardena said that the committee would include three university Vice Chancellors and a retired judge.
The proposed committee would also make recommendations to amend the Examinations Act of 1968, he said.
"There are several things in the existing Act that need to be amended," Gunawardena said adding that it was to ensure consistency in rules and regulations, some of which now change with Ministers.
"For example, if some examination supervisor did something wrong the department could only sack her/him from exam duties according to the existing Act, but in future through amendments we hope to bring in some deterrent punishments as well," he said.
The Examinations Department released results after making 'Z'–score by combining the old and new syllabuses according to the formula given by the experts committee including Prof. K. R. M. T. Karunaratne, Prof. Sarath Kulatunga, Prof. Sarath Peiris, Dr. Banneheka and Dr. Dilhari Atygalle, he said adding all were top statisticians of the country.
Assuring that GCE (A/L) results were 100% accurate and only the revised district ranks were issued a day after the release of the results, Gunawardena said that there was no need for anyone to resign as nothing serious had happened.
He said that the teacher trade unionists who were demanding rescrutiny of results were trying to sabotage exam duties and answer script evaluation, but it was unsuccessful.
"They threatened to boycott exam evaluation and duties from July," Gunawardena said adding that they were now trying to create a problem claiming that results were wrong.
He said that the ministry would not dance to their tune and the results would be not re–scrutinized.
However, students could apply for re-correction as usual as in other years, he said.
According to Gunawardena, last year too, 73,000 students applied for re–scrutiny of results.
Higher Education Minister S. B. Dissanayake, Deputy Minister of Education Vijithamuni Zoysa, Higher Education Secretary Dr. Sunil Jayantha Navaratne, Education Secretary H. M. Gunasekera, Commissioner General of Examinations Anura Edirisinghe and other ministry officials were present.
Courtesy: The Island
Latest Headlines in Sri Lanka