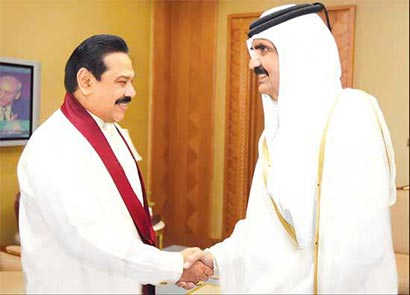 President Mahinda Rajapaksa yesterday said Sri Lanka, which was battered by brutal terrorism for 30 years, is now regaining its place as an important hub for trade and commerce in the region. 'Today, the Sri Lankan people are moving forward and are readying to consolidate peace and reach economic prosperity. That can only be done if the country is united'.
President Rajapaksa addressing the 12th Doha Economic Forum and Enriching the Middle East Economic Future Conference as an International Guest of Honour yesterday said the government is committed to go the extra mile to empower the people economically and achieve lasting peace through reconciliation.
"We are currently engaged in accomplishing this national task of creating a stable peace, national unity and empowering the people, " he said. President Mahinda Rajapaksa was participating in the Forum and Conference as a special guest of Emir of Qatar, Sheikh Hamad Bin Khalifa Al-Thani. President Rajapaksa expressed his pleasure over the opportunity offered to him to address the Forum at this juncture since
Sri Lanka is entering a new stage in her history, a new era of peace and prosperity – 'where the people of this wonderful country are united and engaged positively to rebuild the country'.
"Sri Lankans irrespective of their race and religion underwent significant hardships due to the 30-year, brutal war," said the President.
" Today our economy is growing rapidly because we were able to successfully end the three decade long terrorist conflict in our country. A new platform has been provided for the Sri Lankan economy to grow and prosper.
"This achievement is all the more significant because, it was recorded at a time when many countries in the world have been affected by the effects of the global economic crisis and other macro economic problems, which have drastically affected their economies and damaged their financial systems. We have been able to avoid the global economic crisis from impacting our economy due to the correct policies adopted to strengthen and develop the rural economy and agriculture," President Rajapaksa said.
The President further said Sri Lanka is determined to develop the country as a hub of trade and commerce since the country is fast reaching self sufficient levels in cultivation of many agricultural products.
"Sri Lanka has emerged as the most preferred ICT hub in the Asian region and"we expect to make this country a Knowledge Hub in South Asia since Sri Lanka has the highest literacy rate in the South Asian region with important strategies adopted by the country with regard to Information Technology and education," the President said.The Doha Forum will be held at the Doha Sheraton Hotel from 20-22 May. It will be attended by more than 660 participants representing over 84 countries and organizations.
Courtesy: Daily News