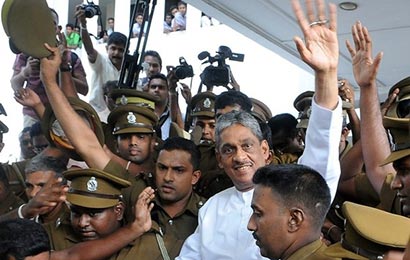 Onlanka News – By Walter Jayawardhana
London's Guardian newspaper indicated that the release of the former Army Commander Sarath Fonseka had a link with the demand of the United States from Sri Lanka to have a better record of human rights and release Fonseka.
In a news item on the issue the Guardian said, "The United States regards Fonseka as a political prisoner and has repeatedly said he should be freed. At a meeting in Washington on Friday,(May 18 )the secretary of state, Hillary Clinton, called on Sri Lanka's foreign minister to address human rights issues.
The newspaper said, "The move, confirmed by government spokesmen, is an apparent attempt to quell international criticism of the government's human rights record before a series of key visits by foreign officials and trips by the president over the summer, including to the London Olympics."(EOM)