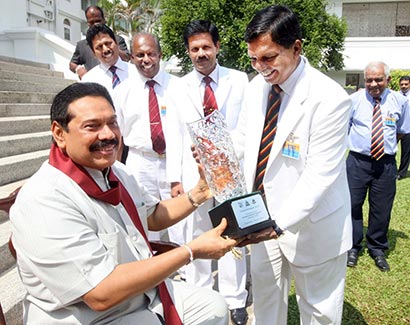 By Janaka Alahapperuma – Pix by: Chandana Perera
Arrangements are in place for the staging of the second annual President Mahinda Rajapaksa T20 Under-19 Triangular Cricket Tournament, conducted among three premier national schools in Sri Lanka, Richmond College- Galle, Nalanda College, and the Thurstan College, Colombo on Saturday 08 and Sunday 09 of December (today and tomorrow) at the Thurstan College Grounds, Colombo-07. The inauguration of the tournament will be held this morning at 9.00am under the patronage of the Speaker Chamal Rajapaksa.
All these three schools, the Alma Mater of President Rajapaksa had the privilege of providing the primary and secondary education to the President. The inaugural event was held in 2011 where Thurstan College, the hosts clinched the Mahinda Rajapaksa Challenge Trophy. This year's tournament is being hosted by Richmond College, Galle and Richmond College Cricket Club and is in the process of making elaborate preparations to ensure a grand event.
Organisers met the President at Temple Trees to discuss this year's arrangements of the tournament and Principal of Thurstan College, Nihal Yapa handed over the Trophy to the President at the occasion. The President in turn handed over the Trophy to Richmond College, which is hosting Triangular Tournament- 2012. The tournament sponsors also presented the cheques to the President.
The tournament is being played primarily on league basis and the top two teams will qualify to play the finals. An additional event, the over 40 old boys T20 cricket tournament too has been introduced this year in parallel with the main event. It will be played at Nalanda College Grounds for the Chamal Rajapaksa Challenge Trophy. President Mahinda Rajapaksa will grace the finals and the awards ceremony as the chief guest.