President Rajapaksa opens Upper Kothmale Hydro-power Plant Tunnel for the public today
Posted by Editor on November 5, 2010 - 5:52 am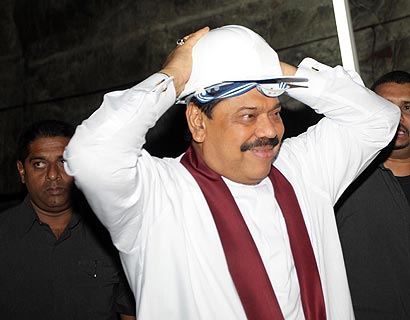 Onlanka News – By Janaka Alahapperuma
(Pix by: Sudath Silva)
President Mahinda Rajapaksa declared open the Upper Kothmale tunnel which is considered to be the longest tunnel in the country this morning (Thursday) on 04 November. This tunnel is 12.9 km in length and has a diameter of 5.2 meters to carry water from the Kothmale stream to the Kothmale Hydro-power plant which is an underground powerhouse located at Niyamgamdora.
The Upper Kothmale Hydro-power plant construction project was launched in March 2006. Earlier it was delayed for over a decade due to various social and environmental issues. Later it was commenced on the directive of President Mahinda Rajapaksa just a few months after assuming duties in 2005.
Minister of Power & Energy, Patali Champika Ranawaka said the government aims to provide electricity for all citizens by the year 2012. The demand for electricity has been growing at an annual rate of 7-8 percent and is expected to increase due to the liberation of the entire North and the East, and dividends of development being delivered to the rural areas.
The construction work was carried out in five phases. Director of the project Shavendranath Fernando said that the construction work has been accelerated recently and nearly 65 percent of the total project now has been completed. The remaining work expected to be completed soon, he further added.
The Upper Kothmale Hydro-power plant will add 150 MW to the national grid by the end of 2011. It is expected to generate 409 million units of power annually. The Government of Japan has provided a loan of Japanese Yen 33,265 million while the Ceylon Electricity Board also provides funds Rs 87,000 million for the project. The Upper Kothmale is almost the last large scale Hydro-power project to be built in Sri Lanka.
Ministers, Champika Ranawaka, Arumugam Thondaman and C.B.Rathnayake, Deputy Ministers Muttu Sivalingam, Mahindananda Aluthgamage and Premalal Jayasekera, Governor Tikiri Kobbekaduwa, Chief Minister Sarath Ekanayake and Japanese Ambassador in Sri Lanka Kunio Takahashi were present.
Pictured here the President and the invited guests including government officials inspecting the construction work after opening the project and the Ariel views of the Upper Kothmale project and the newly built housing complex for the relocated local residents.
After the official opening it is now open for public for three days to view the tunnel.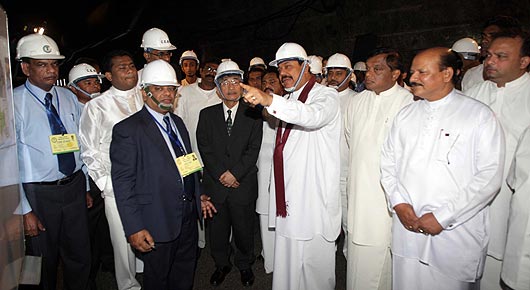 Latest Headlines in Sri Lanka