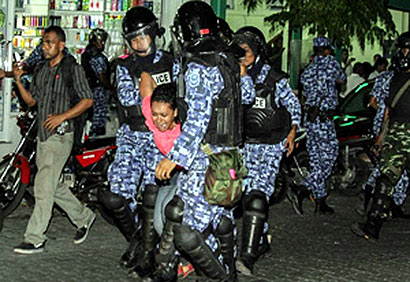 President Mahinda Rajapaksa has telephoned Maldives President Mohammed Waheed Hassan Manik today to inquire about the political developments in the country.
Maldives President's spokesman Masood Imad confirmed that President Rajapaksa had telephoned President Waheed Hassan but could not give further details.
The Maldives has been in a state of turmoil with reported attempts by the government to arrest former Maldives President Mohamed Nasheed.
Nasheed's party, the Maldives Democratic Party (MDP) said that last night 58 people were arrested by the Maldives police, some very brutally, during a 7000-8000 strong protest march in the capital, Male'.
The march had started off peacefully but was disrupted by the police in full riot gear without prior warning, the MDP said.
The MDP also said it welcomed the calls by the Governments of India, the United Kingdom, United States, the Commonwealth, United Nations and the European Union for a free, fair and inclusive Presidential election in the Maldives.
The MDP said it remains deeply concerned over the current political situation and strongly believes the status of the judiciary and rule of law in the Maldives is not conducive to ensure a fair trial for Nasheed. (Colombo Gazette)