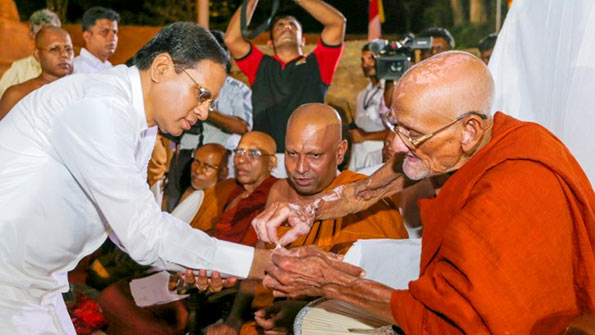 A ceremony, organized by the Buddhist television and radio channels, was held under the patronage of President Maithripala Sirisena to illuminate the premises of historical Gal Viharaya in Polonnaruwa on August 06.
Many meritorious ceremonies were held at Solosmasthana (16 sacred places in Sri Lanka) in this regard.
President Maithripala Sirisena, speaking on this occasion, stressed the importance of making Sri Lanka a centre to spread the message of Theravada Buddhism to the world. He said the modern information technological tools could be used for spreading the Theravada Buddhism to the international community. President Sirisena expressed his heartfelt gratitude to the Maha Sangha for their contribution in making this event success.
Many charitable programmes including a Buddha puja with 108 rice varieties cooked from toxin free rice and 1008 curry varieties, alms giving for 100,000 devotees who observed sil, distribution of dry ration and medicine to kidney patients and pregnant mothers and school equipment distribution were organized in parallel to this.
Offering of Atapirikara to 5,000 Bhikkhus, paying floral tribute to Kiri Vehera and offering of herbal medicine to Gal Viharaya were also held during the ceremony.
A Pahan Pooja was also organized by using 84,000 lamps with scented oils.
The illuminations at Kiri Vehera was switched on by President Maithripala Sirisena amidst the chanting of Seth Pirith by the Maha Sangha and later he was engaged in religious observances.
A CD which contained a song on splendor of city of Polonnaruwa by Dr Praneeth Abhayasundara, President of the All Ceylon Buddhist Congress and a special felicitation book by Chief Incumbent of Solosmasthana ,Most Venerable Vedaruwe Upali Thera was presented to the President.
Later, the President visited the Gal Viharaya premises and paid homage and joined in  listening to the Dhamma sermon. He also joined in distributing equipment necessary for Piriven of the Polonnaruwa district.
The Maha Sangha of the Tri-Nikaya including the Mahanayaka of the Ramanna Maha Nikaya, Most Venerable Napana Premasiri Thera, Chief Incumbent of Solosmasthana,Most Venerable Vedaruwe Upali Thera, Most Venerable Anamaduwe Dhammadassi Thera, , Most Venerable Daranagama Kusala Dhamma Nayake Thera and many devotees  participated in this event.
(President's Media)