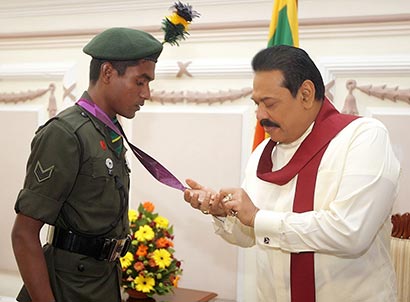 Onlanka News – By Janaka Alahapperuma
(Pix by: Sudath Silva)

Lance Corporal Pradeep Sanjaya who did Sri Lanka proud by winning a Bronze Medal at the London Paralympic Games recently met President Mahinda Rajapaksa at Temple Trees today on 13 September.
A Lance Corporal of the Sinha Regiment of the Sri Lanka Army, Pradeep succeeded in boosting Sri Lanka's image by winning the bronze medal in the 400 metres sprint in T-46 in 49.28 seconds for the first time in Sri Lanka's history.
Sri Lanka's first ever Paralympics medalist Lance Corporal Sanjaya was promoted to the rank of Staff Sergeant of the Army by the President and gifted Rs. 4.5 million and a block of land in Meerigama area to build up a house at the occasion. The donation was jointly funded by Sri Lanka Army (Rs 3 million) and Sports Ministry (Rs 1.5 million). The Ministry of Housing, Construction, Engineering Services and Common Amenities will undertake construction of a new house with the coordination of the Sports Ministry.
Kandy District athletic coach and Pradeep Sanjaya's trainer Jansz Dissanayake was also rewarded with cash award of Rs 325,000 by the President.
Sports Minister Mahindananda Aluthgamage, Defence Secretary Gotabhaya Rajapaksa, Army Commmander Lt. Gen. Jagath Jayasuriya , Secretary to the Sports Ministry Anura Jayawickrama, Chairman of the Paralympic Committee (Sri Lanka) Brigadier Rajeev Wijesinghe, Ministry officials and family members of Pradeep Sanjaya were also present on the occasion.
Duncan White bagged the Silver Medal in the 400 metres in 1948 London Olympics. Susanthika Jayasinghe succeeded in winning the Silver Medal in the 200 metres during the Sydney Olympics in the year 2000. After these historic achievements, it was Pradeep Sanjaya, who sacrificed one of his arms on behalf of the country in the Kilinochchi battlefield, succeeded in bringing fame to his motherland at the 2012 London Paralympic Games. He will also receive the due respect and honour of the all sports fans as well the nation for the magnificent contribution he had made to enhance Sri Lanka's image in the world through the field of sports.
Pictures are seen here the President takes a closer look at Pradeep's Paralympic Bronze Medal and another precious medal he has won in his married life.