UNPs folly delayed establishing power plants
Posted by Editor on September 13, 2012 - 12:12 pm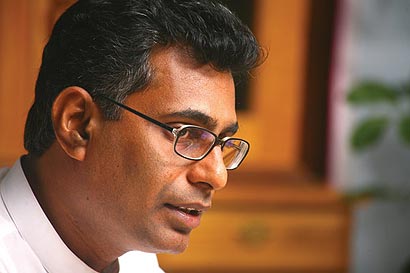 Minister Patali Champika Ranawaka said that the opposition has no moral right to make criticism about the Lak Wijaya Power Plant in Puttalam. Explaining the background that led to the establishment of the Lak Wijaya Power Plant the Minister said that the proposal for establishing a coal power plant was made in 1985 and only President Mahinda Rajapaksa took the bold decision to establish this power plant with the right vision to meet the power requirements in the future.
He said that when the proposal to establish a coal power plant in the country was made in 1985, Mawella in Matara, Oluwil in Ampara and Puttalam were identified as suitable locations.r However, due to pressure exerted by various groups the former President J.R Jayewardene was reluctant to proceed with the proposal.
The Minister said that when the proposal was again brought up to establish the plant in Mawella, Matara in 1988 the former President R. Premadasa suspended it due to the presidential election fearing that it would be politically disadvantageous for his election process. Therefore, the Minister said that it is hilarious to find his son Sajith Premadasa talking about power cuts.
He said that the establishment of the plant was taken up again during President D.B Wijethunga's time under the initiative of Minister P. Dayatathna. However, this initiative was abandoned due to change of government.
Speaking at a media conference held Wednesday (12), the Minister further said that during the former President Mrs. Chandrika Kumarathunga's time also proposals were made about establishing this power plant. However, at that time it was proposed to establish a private power plant of 900 megawatts. The current location of the Lak Wijaya Power Plant in Norochcholei was chosen as the suitable place for this private Power Plant. But, there were politically motivated opposition for building a jetty for bringing in coal for this plant saying that it would affect the statue of the Thalawila church due to sea erosion. There were agitation against this move and even a death took place due to protests.
Under these circumstances the former president cancelled the cabinet decision. The Minister reminded that the former president at that time made an important statement saying that if there were power problems in the country in the future, the protestors and those instigating politically motivated against the plant should take complete responsibility for that.
The Minister further said that the Cabinet of August 2005 in which Janatha Vimukthi Peramuna also held Ministerial portfolios took decisions to establish this power plant. Therefore, Janatha Vimukthi Peramuna has no moral right to oppose the power plant. The Minister said that steps are being taken in coordination with the Chinese company which erected the power plant to overcome the defects in the first stage of the project. He said that with the commencement of the second stage in October the power generation of the plant could be carried out in a stable manner.
Source: Government News Portal
Latest Headlines in Sri Lanka