"Sri Lankan pilgrims will have no problem here''
Posted by Editor on September 14, 2012 - 6:36 am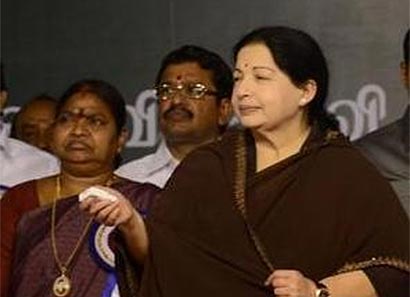 Chief Minister Jayalalithaa on Thursday said Sri Lankan tourists and pilgrims would face no problem in the State and sought to explain that she had prevented sportspersons from that country playing or training in Tamil Nadu only to express the State's anguish and protest over the denial of rights due to Tamils in the island nation.
Speaking at a function got up in Srirangam, her constituency, where she launched or laid the foundation stone for a number of projects, the Chief Minister said she had taken measures such as getting a resolution passed in the State Assembly seeking economic sanctions against Sri Lanka to pressure that government into granting Tamils equal rights.
"Ï wanted those who committed atrocities on innocent Sri Lankan Tamils declared war criminals," she said. It was to express Tamil Nadu's protest that she had stopped Sri Lankan sportspersons playing in Tamil Nadu and also insisted that the Central government should avoid giving training to Sri Lankan Army in any part of the country. Yet, my government is determined to ensure that Sinhalese visiting Tamil Nadu for tourism and pilgrimage are not harmed in any way."
She accused the Centre of having abetted the "genocide of Tamils" in Sri Lanka. Further, the Sri Lankan navy continued to attack fishermen from Tamil Nadu while they were fishing in their traditional waters, but the Union government did not lodge a strong protest, Ms. Jayalalithaa said.
In a veiled attack on Dravida Munnetra Kazhagam president and former Chief Minister M. Karunanidhi, she said in spite of the Centre displaying such an attitude, "someone is unable to question it; he changed the name of the very conference meant to protect Sri Lankan Tamils."
Citing an incident in the life of P.T. Thiyagarayar, who was the mayor of Madras, she said he had declined to forsake his traditional dress for the sake of receiving the Prince of Wales. Ultimately, it was the British government that had to shift its stand and accept his traditional attire. Only such people who had self-respect could talk of the Sri Lankan Tamil issue, she said. In an indirect attack on Desiya Murpokku Dravida Kazhagam leader Vijayakant, she said "Some who have been with us until attaining victory now keep levelling charges against us every day."
The Chief Minister came out with a list of her achievements and explained how she had extended the anna dhanam scheme to a large number of temples.
"Now I am introducing anna dhanam in Srirangam Ranganathaswamy Temple and the Palaniyandavar Temple at Palani which will be between 8 a.m. and 10 p.m."
Later she handed over various forms of assistance to more than 3,400 beneficiaries.
Source: The Hindu
Latest Headlines in Sri Lanka