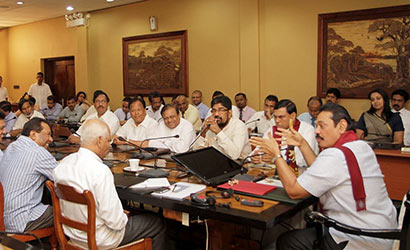 President Mahinda Rajapaksa told the Government Parliamentary Group yesterday (16) to not complicate political issues when there is a presidential poll just around the corner.
This issue had been discussed at the Cabinet meeting held at Temple Trees yesterday, authoritative political sources told Ceylon Today last night.
The President had been responding to questions from government members about the forthcoming presidential poll which is billed for 8 January 2015 and also in the light of leftist parties wanting a postponement of the presidential poll by two years and for the President to remain in office until his second term was over in full.
The President's assertion to not complicate issues came when the devolution of power was being taken up for discussion.
Minister of Minor Export Crops Reginald Cooray had asked the President about what the government had in mind about devolution and proposed that it should proceed with it.
The President had said that the Fisheries and Aquatic Resources Minister Rajitha Senaratne had also advocated devolution of power right along, but said that the time was not opportune for the deliberation of this subject at a time when a presidential poll was in the offing.
Earlier, Kurunegala District MP Shantha Bandara had said that the group and the country needed clarification on the economic indicators that the government was claiming on employment, economic growth and inflation. He had added that the general situation of the country did not portray the economic indicators that the government was claiming.
People are suffering with the high cost of living which is unbearable, he had said. However, it was Minister Champika Ranawaka who had risen to the defence of the government by claiming that the development efforts of the government and the economic indicators were all correct. He had also said that the Jathika Hela Urumaya (JHU), which he is a member of, is a steady partner of the government and that economic growth and the development efforts of the government would be discussed and announced at the party's convention on Sunday (19).
Meanwhile, the Cabinet of Ministers yesterday approved 45 memoranda at the meeting. There was also a meeting chaired by President Mahinda Rajapaksa for SLFP organizers at Temple Trees last night, the sources said.
(Courtesy: Ceylon Today)