President tells MR: Allow me to conduct affairs of SLFP
Posted by Editor on March 18, 2015 - 8:32 am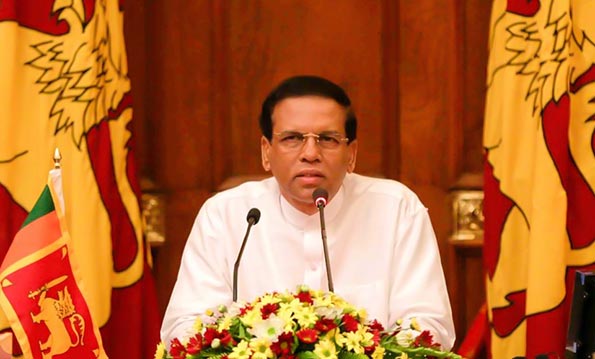 President Maithripala Sirisena yesterday told his predecessor, former President Mahinda Rajapaksa to let him conduct the affairs of the Sri Lanka Freedom Party (SLFP), as its Chairman, without any interference.
"I have to say very clearly, if he (Former President Rajapaksa) handed me the leadership of the party, he should allow me to conduct its affairs," the President said, addressing electoral and district organizers of the SLFP, during a workshop for them at the Sri Lanka Foundation Institute auditorium in Colombo yesterday.
The President pointed out to the gathering that former party leaders of both the SLFP and UNP had never resorted to dwell in party affairs after they handed over the leadership to the next in line.
"After J.R. Jayewardene handed over the party leadership to R.Premadasa, he never came back an interfered in party affairs, even though some UNP members requested him to do so when there was a revolt within the party led by Lalith and Gamini. In the same manner, after former leader Chandrika Kumaranatunge handed over party reins to Mahinda Rajapaksa in 2005, she never interfered in party affairs," he added.
The President said there were some meetings being conducted and talk going on that people were gathering around former President Rajapaksa and posed the question to the gathering as to who was behind in organizing these events. He urged party organizers to think rationally according to their conscience about the objective behind these attempts.
The President while stressing that it was the party membership which had invited him to assume the Chairmanship of the SLFP and it was his predecessor Rajapaksa who had made the request, added that his election to lead the party was made in accordance with the party constitution.
He also stressed that no one could grab the leadership of the SLFP by force and this should happen with the consent of the party membership and office bearers.
President Sirisena said that, since his advent as the head of the Sri Lanka Freedom Party (SLFP), internal party democracy has been restored.
The President said the party office bearers and members today have begun to speak freely after a long period of silence, even going to the extent of openly criticizing the party leader and added that this was a good sign.
"For the first time in history, I saw party members challenging the leader openly through the media. Such open discussion within party ranks augurs well for the SLFP's progress," he added.
He also urged the party organizers to prepare the SLFP and strengthen its grassroots level organisation to face an impending general election.
(Daily News)
Latest Headlines in Sri Lanka