President tells Nation: National unity first task; Eradication of poverty requires true bravery:
Posted by Editor on November 20, 2010 - 10:09 am
Our first task is to ensure lasting national unity and sustainable, permanent peace in our motherland, said President Mahinda Rajapaksa addressing the Nation after being sworn in as President for the second term yesterday morning.
"I believe that the eradication of poverty is greater than the defeat of uprisings. It requires true bravery," he added.
He reminded the people that the period ahead is one in which all will have to work hard for the country. "It is by increasing the quality of work that my country can be made the Wonder of Asia," President Rajapaksa said.
"We must rise by making this country the hub of development in the five-fold areas of naval, aviation, commerce and trade, power and energy, and knowledge. We must make this a country one among those with the best quality of life."
The President also stressed that the country "should move towards development while safeguarding the great humanitarian traditions that exist among our people."
"We need a land free of a lawless underworld, racketeering, extortion and the carrying of illegal weapons or drugs; a land free of corruption and inefficiency," President Rajapaksa said.
Speaking of the development of future generations, the President underlined the importance of them being trilingual.
He also expressed hope that in the near future the level of computer literacy would reach 75 percent so that the future generations would be heroes of technology.
The President also gave a word of advise the people never ever call Sri Lanka a small country.
He recalled that he had never referred to the Motherland as a small country in any of his speeches.
"This is a land with a great history of many centuries, where the Kalawewa, Ruwanweliseya, Sigiriya, Yoda Ela, Lovamahapaya stand; where the Buddha has trod thrice on this land. A land that won our freedom from the world's most powerful imperialism from struggles that lasted nearly four centuries; has defeated the most ruthless and savage terrorist of the world.
It is where people who follow four different faiths live in harmony and where today many communities live in brotherhood; and where the world's largest harbour and five other ports are being built, and the strides of development are proceeding to build airports, expressways and massive power stations. With such an abundance of greatness who would dare to say that this is a small island?"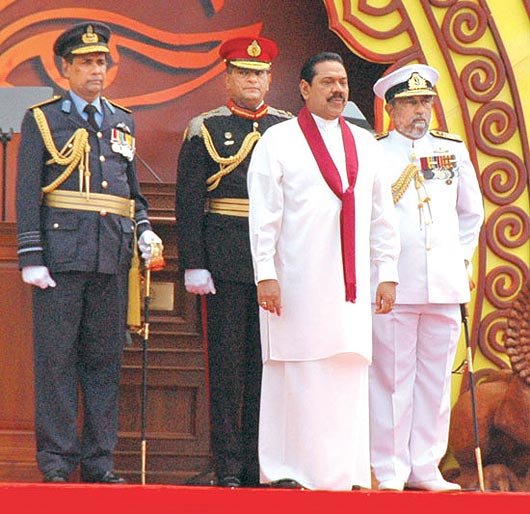 Latest Headlines in Sri Lanka