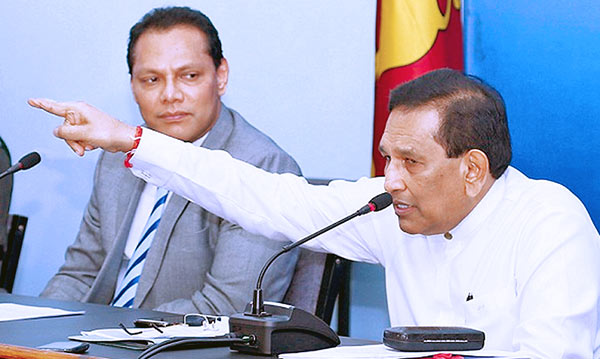 Co-cabinet spokesperson Minister Rajitha Senaratne yesterday clarified that the President had merely voiced his displeasure against certain remarks made against him by some members of the UNP.
He rejected claims that there was animosity within Cabinet, as reported in the media.
The President was hurt because the attacks came from within, Minister Senaratne said. "The Prime Minister promised to speak to these MPs and ministers and sort out the matter", he added addressing the weekly cabinet media briefing at the Government Information Department.
The co-cabinet spokesperson further observed that the government has been put in a difficult spot because most of the criticism was coming from within, and that their challenge was not from the Mahinda Rajapaksa faction but from within the government itself.
The national government has brought two staunch enemies together.It is not easy to keep them together and many within the government have forgotten that it is a national government and don't know how to act within it, Senaratne said.
Co-cabinet spokesperson, Minister Dayasiri Jayasekara also observed that the Bond Commission was not appointed to attack the UNP, but due to public demand.
Minister Senaratne also denied reports that the President had stormed out of the cabinet meeting.
Co-cabinet spokesperson, Gayantha Karunathilake who also echoed the views of the former two, said a meeting called by the UNP working committee last night had nothing to do with the events that took place in Cabinet on Tuesday morning.
"The Prime Minister appointed a JVP member as COPE chairman to investigate into the Bond issue, he wouldn't have done that if he wanted to bury it. At the same time, the President rightly appointed a Commission to investigate it. So the government is not trying to bury the issue,"Senaratne said.
"Those who don't agree with the government should leave", he added.
(Source: Daily News – By Zahrah Imtiaz)