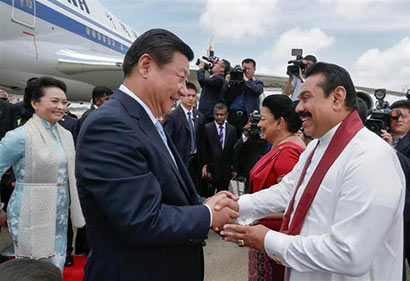 – by Janaka Alahapperuma –
Sri Lanka warmly received the President of Peoples' Republic of China and General Secretary of the Chinese Communist Party and Chairman of the Central Military Commission, Xi Jinping at the Bandaranaike International Airport this afternoon (16 September). It is only after 28 years that a Chinese head of state engaging in an official tour in Sri Lanka. President Mahinda Rajapaksa and First Lady Shiranthi Rajapaksa were present at the air port to welcome Chinese President Xi Jinping and First Lady Peng Liyuan.
President Rajapaksa warmly received the delegation headed by his Chinese counterpart. President Jinping has arrived in the country along with a high profile political and business delegation from China on an invitation extended by President Rajapaksa. The two-day state visit is the third leg of his four-nation tour that began with Tajikistan. He arrived in Sri Lanka after a visit to the Maldives.
Sri Lankan children presented President Xi Jinping and First Lady Peng Liyuan bouquets of flowers upon their arrival at the airport. There were some of the hundreds of traditional Sri Lankan performers including dancers and drummers who lined the red carpet to welcome President of China. Prime Minister D.M. Jayaratne, External Affairs Minister Prof. G.L. Peiris and several Ministers were present to greet President Jinping and his entourage.President Rajapaksa introduced the Ministers and officials who were present to his Chinese counterpart. President of China Xi Jinping also signed the Visitors' Book on arrival at the airport
Bilateral discussions between the Sri Lankan and Chinese Presidents are scheduled to take place at the Presidential Secretariat this evening. The two leaders are also slated to join their delegations to sign more than 20 bilateral agreements and MoUs which are of significant importance to the region as well as to enhance cooperation between the two nations. These agreements include in the fields of highway and road development. President Rajapaksa during his visit to China recently agreed to upgrade the relationship between China and Sri Lanka to strategic levels.
The Sri Lankan and Chinese Presidents are also scheduled to commission the 2nd Phase and declare open the last phase of the Norochcholai Lakvijaya Power Station this evening. The plant with these stages will increase its capacity to 900 megawatts to the national grid. The total cost of the plant which was started in the year 2006 will be 1341 million US dollars.
The Chinese President will also inaugurate the construction work of the Colombo Port City Development Project on an invitation of President Rajapaksa. Under this project 500 acres will be reclaimed from the sea. The Chinese construction communication company will invest 1400 million US dollars for the building of the port city which will comprise several modern facilities including tourist hotels, luxury houses, and shopping malls.
Sri Lanka and China initiated full diplomatic relations in February 1957.
Pix By: Sudath Silva