UPFA offers free fuel to three wheelers
Posted by Editor on September 16, 2014 - 9:26 am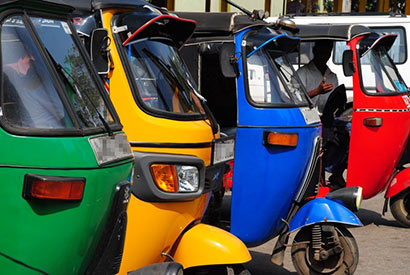 UPFA candidates are distributing a large number of coupons for three-wheeler drivers to obtain a litre of petrol and 500 mililetres of engine oil, free of charge from a filling station, in Puwakgodamulla, on the Mahiyangana road, according to complaints lodged with election monitors.
Campaign for Free and Fair Elections (CaFFE) Executive Director Keerthi Tennakoon said that Opposition Parties have complained that a UPFA rally will be held today near the Kannan' filling station, on the Badulla – Mahiyangana road. In connection with that meeting, coupons have been distributed among three-wheeler drivers encouraging them to participate and transport the public to the rally. The coupons can be produced to the filling station today after attending the rally.
Meanwhile, saucepans and chairs were distributed at Meegahakiwla, Badulla yesterday by UPFA candidate J. M. Gunathilake. "The continuous distribution of goods to the voters is an election law violation and steps should be taken to stop this," Tennakoon said.
CaFFE had received 378 complaints by yesterday. They include 267 from Moneragala and 93 from Badulla.
(Courtesy: Ceylon Today)
Latest Headlines in Sri Lanka