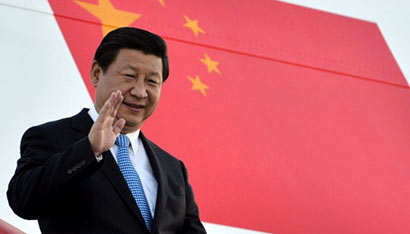 Chinese President Xi Jinping will arrive in Sri Lanka on Tuesday for a 23-hour state visit during which he will oversee the signing of at least 20 agreements. Many of the agreements had been received by the Ministry of External Affairs in the final weeks before the proposed visit, leaving officials with little time to examine them or to propose changes. The details of what will be signed have also not been released to the public.
During the tightly scheduled visit, President Xi will hold bilateral talks with President Mahinda Rajapaksa. They will jointly inaugurate Unit III of the Lakvijaya coal power plant at Norochcholai. They will do it from the Presidential Secretariat in Fort.  The next morning, before his departure for India, President Xi will tour the Colombo South Container Terminal in which the Chinese Government-run China Merchant Holdings International has a controlling stake of 85 per cent.
Among the agreements to be signed is one authorising the construction of the offshore island called Colombo Port City. The China Harbour Company Limited is investing more than US$ 1.3 billion in the first phase of this project.  This week, Investment Promotion Minister Lakshman Yapa Abeywardena rescinded a gazette dated January 24, 2014, related to the granting of sweeping tax concessions for Colombo Port City. A new one was issued in its place on the same day but its details were not available.
During bilateral talks between the two leaders, Sri Lanka is expected to reiterate its support for China's Maritime Silk Route project that envisages stronger relations among seafaring nations. President Rajapaksa will also thank China for its consistent support of Sri Lanka in international and multilateral forums and seek to further strengthen economic ties between the two countries.  President Xi will also meet Prime Minister D.M. Jayaratne and Speaker Chamal Rajapaksa in Colombo.
(Courtesy: Sunday Times)