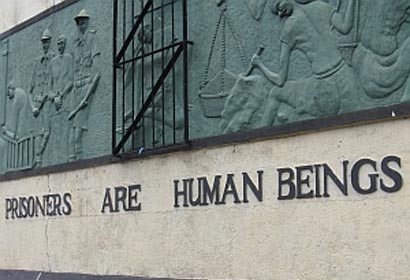 The Minister of Rehabilitation and Prison Reforms, Chandrasiri Gajadeera, announced that the Watareka Prison School would be opened by January 2014. Prison statistics reveal that out of 32,128 inmates, 2,848 are uneducated.
The school would therefore provide over 2,000 inmates with an opportunity to be educated so that they could sit for the GCE O/L and A/L exams, eventually. The second phase of the project will provide higher education facilities to 280 inmates, who may be interested in pursuing higher studies leading to a degree. The course of studies would be open to inmates from all over the island.
The Minister of Education, Bandula Gunawardana, and Minister Gajadeera, had signed a Memorandum of Understanding (MOU) in 2012 to set up the school, with the aim of increasing their literacy rate, especially that of the younger inmates. The Ministry of Education provided Rs 19.5 million for the project, and the labour to construct the school would be provided by the Ministry of Rehabilitation and Prison Reforms.
The Media Secretary of the Ministry of Rehabilitation and Prison Reforms, Iroshan Preethikumar, speaking to Ceylon Today said, "Most of the young inmates in prison are children, who did not have the opportunity to enroll in school and be educated, thereby leading him/her to engage in crime. Our focus group is inmates, who would be 30 years of age or younger, and we hope that by providing them an opportunity to be educated, they might become better citizens."
Preethikumar further said: "Our programme hopes to ensure that the child, who is in prison does not miss out on his/her years of schooling. Once they are released, he/she can join a regular school and continue with his/her education. We will be categorizing the inmates according to their current levels of education before they commence studies. Adult study programmes for older inmates will also be available."
He also said that a child who has been in prison will have no problem in finding a school once he/she is out of prison.
(Courtesy: Ceylon Today)