Probe if Sampur incident was premeditated
Posted by Editor on May 28, 2016 - 7:52 am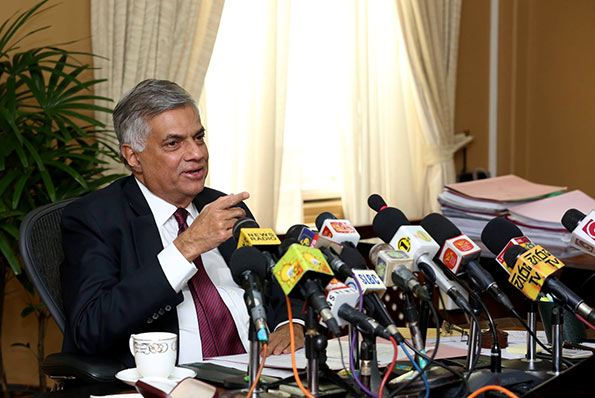 Prime Minister Ranil Wickremesinghe yesterday requested Tri Forces' chiefs to investigate whether the incident at Sampur Maha Vidyalaya, Trincomalee was premeditated and targeted at the G7 Summit.
He requested them to look into whether there was a ploy to embarrass the President and the country in the face of world leaders who invited the latter to the Summit.
The Prime Minister also asked that they use all reports involving the incident, including those which appeared on the internet and social media, for their report.
He said various people had misinterpreted the incident to suit their own agendas.
Prime Minister Wickremesinghe has also asked for separate reports on the incident from Chief Minister Nazeer Ahmed and Navy Commander Ravindra Wijegooneratne.
He has informed them that he would use these reports and discuss the issue with the President when he returns to the island.
A decision on the matter would be taken thereafter.
Meanwhile, Defence Secretary Karunasena Hettiarachchi told the Daily News that the Prime Minister had also discussed the latest security situation in the country at a meeting with security heads yesterday.
He added that the Naval ban on the Chief Minister continued and that a final decision on it would be taken once the President returns to the island today.
(Daily News – By Shiromi Abeysinghe and Zahrah Imtiaz)
Latest Headlines in Sri Lanka