Jayalalithaa thanks Wigneswaran
Posted by Editor on May 29, 2016 - 7:38 am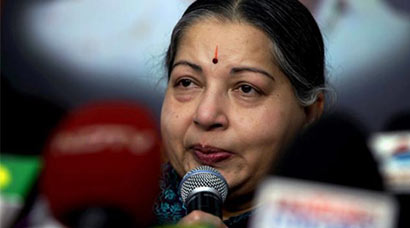 Chief Minister Jayalalithaa on Saturday thanked Chief Minister of Sri Lanka's Northern Province C.V. Wigneswaran, who had extended his wishes on her recent victory in the Assembly polls.
"In the last five years as the Chief Minister of Tamil Nadu, I have taken all possible efforts within my power to protect the welfare of Sri Lankan Tamils and to ensure justice due to them. I will continue to take efforts to ensure justice due to the Sri Lankan Tamils of the Northern Province of Sri Lanka, through the government of India," Ms. Jayalalithaa said in her letter to Mr. Wigneswaran. In her letter, which was released to the media, she thanked Mr. Wigneswaran and reciprocated his interest for a meeting and said, "We shall meet on a day convenient to both of us."
Mr. Wigneswaran, in his letter, claimed that Ms. Jayalalithaa's victory in the recent Assembly polls had surpassed the results of 2014 Parliamentary elections, in which the AIADMK won 37 of the total 39 seats.
(Source: The Hindu)
Latest Headlines in Sri Lanka