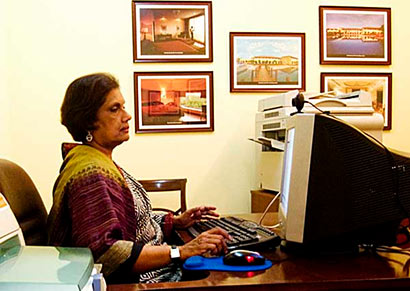 Former President Chandrika Bandaranaike Kumaratunga, in a special statement issued yesterday, urged the nation to defeat the elements trying to reverse the "January 08" mandate and vote for honest and respectable candidates.
"At this decisive juncture, we need to decide whether we want to support elements trying to destroy our party's ideals or we need to give strength to candidates who have vision and commitment to make the country victorious," the former President, who is also a Patron of the Sri Lanka Freedom Party, said. "To protect the party, we need to first build up the country.
That is exactly why we need to protect the 'January 08' victory," Kumaratunga said, explaining her position on the election.
Strongly criticizing the conduct of former President Mahinda Rajapaksa, Kumaratunga said the UPFA Kurunegala District candidate misused state power, state resources, state services, media and defence establishments when he was in power.
"He used religious and communal feelings to benefit his political campaign in an unacceptable and uncivilized manner.
When a ruler violates human rights and runs the country without any foresight, the country will be cornered and isolated in the international domain.
This will lead to a disastrous situation and the country's future will be darkened without any hope for the future," she added.
Kumaratunga said the ruler who was rejected at the Parliamentary election and wrongdoers who were with him are seeking a mandate again, leaving those who expected good governance in a state of shock.
"This has become a serious concern for respectable candidates of the party.
I am disappointed over the reluctance on the part of certain party seniors to restructure the SLFP," she said.
"My father, the late S.W.R.D. Bandaranaike, the founder of the SLFP, built up this party not for his own benefit, but to serve the nation," Kumaratunga said.
Former President Kumaratunga, in her statement, also revealed that she appointed Mahinda Rajapaksa as the Chairman of the party when 'the majority' had opposed the idea. She said Rajapaksa distorted the composition of the party and turned it into a safe haven for cronies.
She also stated that Rajapaksa allies acted in a conspiratorial manner to prevent the new government from exercising the people's mandate.
Former President Kumaratunga said Parliament had to be dissolved in June to block the path of conspirators.
In spite of their attempts, the former President said, the new government made some remarkable moves for the betterment of the people.
(Daily News)