Protesters force Rohingya refugees to flee Sri Lanka safe house
Posted by Editor on September 27, 2017 - 7:34 am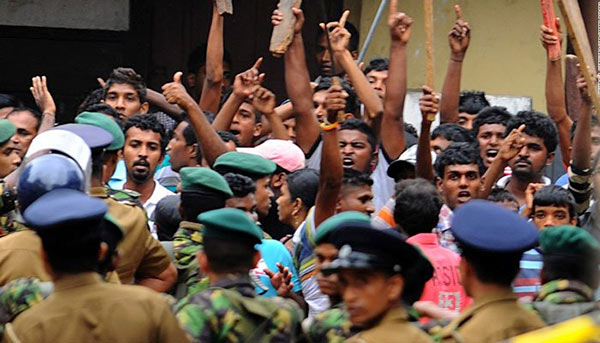 Sri Lankan monks and hardline nationalists protesters forced 31 Rohingya Muslim asylum seekers to flee a United Nations safe house in the capital Colombo on Tuesday, police said.
The refugees, who were arrested in April along with two suspected Indian traffickers in a boat in Sri Lankan seas, were taken into protective custody and then to a detention center outside Colombo, police spokesman Ruwan Gunasekara said.
A live telecast on the Facebook page of Sinhale Jathika Balamuluwa, a hardline nationalist group, showed the Buddhist monks and some civilians storming the safe house chanting "do not allow terrorists into this country."
The Rohingya group fled Myanmar in 2012 and lived in India as refugees for nearly five years before trying to migrate illegally, a lawyer representing them told Reuters.
A local court later handed them over to UN Human Rights Council (UNHRC).
UNHRC officials were not immediately available for comment.
"These Rohingyans are a group of terrorists. They have slaughtered our Buddhist monks in Myanmar," Akmeemana Dayarathne a Buddhist monk who led the protest told the gathering.
Tens of thousands Muslim Rohingya have fled mostly Buddhist Myanmar since 2012. Tension between majority Buddhists and Rohingya, most of whom are denied citizenship, has simmered for decades in Rakhine, but it has exploded several times over the past few years, as old enmities, and Buddhist nationalism, surfaced with the end of decades of harsh military rule.
About 69,000 Rohingyas have fled to Bangladesh since October, straining relations between the two neighbors who each see the stateless Muslim minority as the other nation's problem.
(Reuters)
Latest Headlines in Sri Lanka