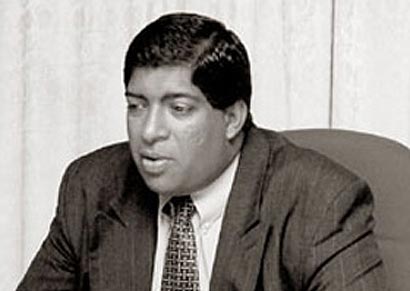 The UNP yesterday said President Mahinda Rajapaksa was expected to grant a 5,000-rupee pay hike to public servants but it would give them Rs. 10,000 when it formed a government.
Addressing the media in Colombo, Assistant Leader of the UNP Ravi Karunanayake MP, said that the UNP already knew what Rajapaksa's 'Presidential Election Budget' contained. "He will announce a salary increase of Rs. 5000 for public servants after denying them a hike for many years with the exception of meagre allowances which were totally inadequate to meet the skyrocketing cost of living. Why is he doing this only now? It is obvious he wants to hoodwink the voters once again.
But, unlike the President, we will not give Rs. 10 to the masses and take back Rs. 100 after elections are over. A future UNP government will give public servants a Rs.10,000 salary increase with no strings attached and it would be done immediately after we come back to power. Our leader Ranil Wickremesinghe has already explained from where the required funds will be obtained.We have a proven track record of standing by our pledges and the people fully well know that ."
Immediately after UNP-led joint Opposition won the next presidential election, it would also increase the monthly remittances to pensioners by Rs. 2,500 and a petrol litre would be reduced by Rs. 50, diesel by Rs. 15, MP Karunanayake said. Paddy farmers would be given a guaranteed price of Rs. 50 and potato farmers Rs. 80 per kilo. Samurdhi benefits would be increased by 200 percent, the electricity bill would be reduced by 25 percent and the education and higher education budgets would be allocated 6 percent and 4.5 percent of GDP, he said. "The President will not have the pleasure of giving election goodies with one hand and taking it away with the other, which he has done all these years because he will fail in his hid re-election bid," Karunanayake observed.
MP Karunanayake recalled that Rajapaksa had reduced the price of petrol by a meagre Rs. 5 and the electricity bill only by 25 percent before the last Uva Provincial Council Poll and the price of gas by Rs. 250 after the verdict was announced. The President had claimed that it had been done on the request of a poor old person, the MP noted, querying why President Rajapaksa had remained deaf and blind for nearly ten years when the majority of people had been crying for much needed relief.
The President had even disregarded a Supreme Court order for the price of petrol to be reduced in keeping with world market prices. His sudden concern for the masses was guided by his intention to call a presidential election nearly two years before its due date. All his actions were guided by expediency and not the needs of the vast majority of people who lived below the poverty line, Karunanayake said.
(The Island)