Quake in New Zealand kills at least 65, traps more
Posted by Editor on February 22, 2011 - 7:43 pm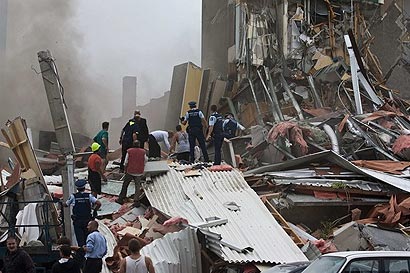 Source: AP News – (Pix by Reuters / AP)
CHRISTCHURCH, New Zealand – One of New Zealand's biggest cities lay in ruins Tuesday after a powerful earthquake toppled tall buildings and churches on a busy weekday, killing at least 65 people in the country's worst natural disaster in decades.
The quake even shook a massive chunk of ice from New Zealand's biggest glacier, some 120 miles to the east of Christchurch, where most of the damage was reported.
More than 100 people, including as many as a dozen visiting Japanese students, were thought to be trapped in the rubble as darkness — and drizzling rain — fell Tuesday night. Rescue crews with sniffer dogs fanned out across the city in search of survivors, some of whom were able to send text messages or make phone calls from under the wreckage.
It was the second major quake to hit Christchurch, a city of 350,000, in five months, though Tuesday's 6.3-magnitude temblor caused far more destruction than a stronger September quake that struck before dawn on a weekend.
"It is just a scene of utter devastation," Prime Minister John Key said after rushing to the city within hours of the quake. He said the death toll was 65, and may rise. "We may well be witnessing New Zealand's darkest day."
The spire of the city's well-known stone cathedral toppled into a central square, while multistory buildings collapsed in on themselves and streets were strewn with bricks and shattered concrete.
Sidewalks and roads were cracked and split, while thousands of dazed, screaming and crying residents wandered through the streets as sirens and car alarms blared. Ambulance services were quickly overwhelmed, and some victims clutching bleedings wounds were carried to private vehicles in makeshift stretchers fashioned from rugs or bits of debris.
Nathanael Boehm, a web designer, said he was standing near a tram track when the quake struck just before 1 p.m., sending the eaves of buildings cascading onto the street below.
Click image to see photos of the quake in New Zealand
AFP/Logan Mcmillan
"It was horrific. People were covered in rubble, covered in several tons of concrete," Boehm said, adding that he believed some of them had been crushed to death.
Christchurch Mayor Bob Parker declared a state of emergency and ordered people to evacuate the city center. He said it was impossible to say how many people were trapped in the rubble, but that it was estimated to be more than 100.
"The government is willing to throw everything it can in the rescue effort," Deputy Prime Minister Bill English said. "Time is going to be of essence."
Troops were deployed to help people get out and to throw up a security cordon around the stricken area, and residents throughout the city were urged to stay home or with neighbors and conserve water and food.
The airport was closed, and Christchurch Hospital was briefly evacuated before reopening. Power and telephone lines were knocked out, and pipes burst, flooding the streets with water. Some cars parked on the street were buried under rubble.
Police said reports of fatalities included people in two buses that had been crushed by falling buildings.
During hours of chaos in the city, people dug through rubble with their hands to free people trapped. Firefighters climbed extension ladders to pluck people stranded on roofs to safety. A crane lifted a team of rescuers on a platform to one group of survivors in a high-rise. Plumes of gray smoke drifted into the air at several points around the city from fires burning in the rubble.
Officials established relief centers in schools and community halls, where food was being served to thousands of sheltering people and blankets were being handed out. In at least one park, people — many of them tourists who had abandoned their hotels — huddled in hastily pitched tents and under plastic sheeting. The Red Cross was working to secure accommodation for them.
Key said eight or nine buildings had collapsed, and others were badly damaged.
Some of those stuck were thought to be visiting Japanese students who called their parents back home to say they were in a collapsed building, a Japanese official said.
Two students from the Toyama College of Foreign Languages remained trapped, while 11 were unaccounted for and could still be in the building, said the official from Toyama Prefecture, who declined to provide his name because he was not authorized to give public statements. Eight students and two teachers from the school had been freed from the wreckage, he said.
Others were also able to call out using their mobile phones, reaching family, officials, and media.
"I rang my kids to say goodbye," said Ann Voss, interviewed by TV3 from underneath her desk where she was trapped in a collapsed office building. "It was absolutely horrible. My daughter was crying and I was crying because I honestly thought that was it. You know, you want to tell them you love them don't you?"
She said she could hear other people still alive in the building, and had called out to them and communicated by knocking on rubble.
"I'm not going to give up," she said. "I'm going to stay awake now. They better come and get me."
The multistory Pyne Gould Guinness Building, housing more than 200 workers, collapsed and an unknown number of people were trapped inside. Rescuers, many of them office workers, dragged severely injured people from the rubble. Many had blood streaming down their faces. Screams could be heard from those still trapped.
Tour guides at the Tasman Glacier in the Southern Alps say the quake shook some 30 million tons of ice to off the glacier, forming icebergs in the lake. The falling ice created waves up to 11-feet (3.5-meters) high, which swept up and down the lake for 30 minutes.
A U.S. delegation of 43 government, business and community leaders was in Christchurch on Tuesday for a United States New Zealand Partnership Forum meeting. All were thought to be safe.
Nine U.S. Congressmen attending the meeting were reported to have left the city before the quake struck.
The U.S. Geological Survey said the temblor was centered 3 miles (5 kilometers) from the city at a depth of 2.5 miles (4 kilometers). It was felt across a large part of the South Island, and caused damage in nearby towns. The extent of damage elsewhere wasn't immediately clear.
"When the shaking had stopped I looked out of the window, which gives a great view onto Christchurch, and there was just dust," said city councilman Barry Corbett, who was on one of the top floors of the city council building when the quake struck. "It was evident straight away that a lot of buildings had gone."
The USGS said the latest quake was part of the "aftershock sequence" following the 7.1 magnitude earthquake on Sept. 4 last year. That quake wrecked hundreds of buildings, inflicted an estimated 4 billion New Zealand dollars ($3 billion) in damage, but caused no deaths.
A strong aftershock in December caused further damage to buildings. The city was still rebuilding from those quakes when Tuesday's temblor hit.
The USGS said the latest quake hit "significantly closer to the main population center of Christchurch" than the September quake, which was centered 25 miles (40 kilometers) west of city.
Known in New Zealand as the Garden City, Christchurch exudes the heritage of its 19th century English founders. A shallow river, the Avon, winds gently through the downtown that is traversed by historic tram lines and dotted with Gothic architecture, parks and sidewalk cafes.
New Zealand's worst earthquake was one that struck in 1931 at Hawke's Bay on the country's North Island, which killed at least 256 people.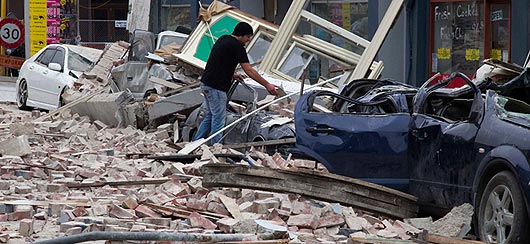 Latest Headlines in Sri Lanka