Army Chief warns of cyber war
Posted by Editor on February 23, 2011 - 6:09 am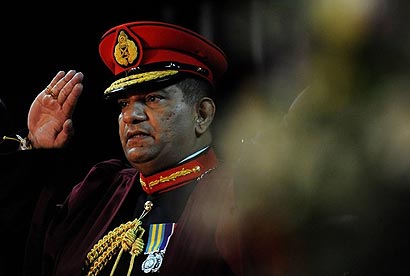 Army Commander Lieutenant General Jagath Jayasuriya yesterday warned that though there is no room to wage war to physically devastate the nation, there is yet ample room to launch a cyber war through cyberspace against Sri Lanka that could cause the same destruction.
He made this observation delivering the keynote speech on Strategic Dimensions of Cyber Warfare at the Cyber Warfare Workshop at the Galadari Hotel. The Army Commander said that the number of enemies looking forward to wage war against Sri Lanka through cyberspace is much more than the LTTE. He added that we might never be able to know them all and what their targets are. He said that we knew LTTE as our enemy since they have been our enemy for almost 30 years.
Army Commander Jayasuriya explaining of danger of a possible cyber attack stated that the CIA once showed a piece of code in the computer which can even make an explosion even in a gas pipeline in a faraway land without a missile or a bomb.
Lieutenant General Jayasuriya said that not only Armed Forces or state leaders, but all Sri Lankans will be the targets if Sri Lanka is attacked through cyberspace.
He added that it is not compulsory to attack the Government and its Armed Forces to damage or destroy a nation.
The Army Chief said that an irreparable damage could be caused to a nation if the servers that includes the financial information of institutions such as banks which are connected to cyberspace were attacked.
"The main responsibility of countering the civil war is the responsibility of the Armed Forces," the Army Commander said. "However countering a possible cyber war which would definitely become a true threat to this country very soon is not the responsibility of Armed Forces alone.
It is the responsibility of yours as well." Army Commander Jayasuriya said that in combating cyber attacks, all of us, service providers, banking sector, manufacturing sector, government sector together with the Armed Forces must become soldiers and warriors before being victims.
Courtesy: Daily News
Latest Headlines in Sri Lanka