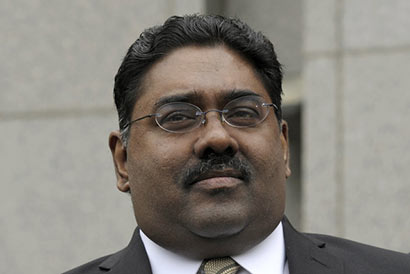 – By Walter Jayawardhana –
The younger brother of jailed hedge fund manager Sri Lankan born Raja Rajaratnam has been charged by US prosecutors with conspiring in an insider trading scheme to cheat on Wall Street to earn nearly $1.2 million illegally.
It was also later alleged that Rajaratnams had been generous contributors to the terrorist group the Liberation Tigers of Tamil Eelam (LTTE).
Rajarengan "Rengan" Rajaratnam, 42, of Manhattan, was charged by the Federal Bureau of Investigation (FBI) and the US Securities and Exchange Commission (SEC) with conspiracy to commit securities fraud and six counts of securities fraud, the New York Times reported.
A former portfolio manager at the hedge fund management firm Galleon Group headed by his elder brother, Rengan Rajaratnam, was charged in an indictment returned Wednesday and unsealed a day later but has not yet been arrested on these charges.
He is the younger brother of Raj Rajaratnam who in October 2011, was sentenced to 11 years in prison and fined a total criminal and civil penalty of over $150 million after being convicted in a massive insider trading case, the largest in the US history.
LTTE's financial manager KP after his arrest by the Sri Lankan authorities was alleged to have said that Raja Rajaratnam was a contributor to the terrorist cause.
"As alleged, Rengan Rajaratnam and his brother shared more than DNA, they also shared a penchant for insider trading. Along with his brother Raj, Rengan Rajaratnam was allegedly at the heart of an insider trading scheme that swept up an unprecedented number of people in its web of corruption, and with his indictment, we are one step closer to closing that chapter," US Attorney Preet Bharara said.
The indictment alleges that Rajaratnam conspired with his brother, Galleon founder Raj Rajaratnam, to trade on the basis of material, non-public information concerning Clearwire Corp and Advanced Micro Devices Inc (AMD) in 2008, earning nearly $1.2 million in profits in the aggregate.
In a separate complaint, SEC alleged that from 2006 to 2008, Rengan Rajaratnam repeatedly received inside information from his brother and reaped more than $3 million in illicit gains for himself and hedge funds that he managed at Galleon and Sedna Capital Management, a hedge fund advisory firm that he co-founded.
In addition to illegally trading on inside tips, Rengan Rajaratnam was an active participant in his brother's scheme to cultivate highly placed sources and extract confidential information for an unfair advantage over other traders, SEC alleged.
Last year, former Goldman Director Rajat Gupta, the poster boy of Indians at the Wall Street, was also found guilty of illegally tipping off his friend Raj Rajaratnam of confidential market information.