RAMANNA MYLVAGANAM IN TIGER TERROR PLOT FREED BY US JUDGE
Posted by Editor on May 15, 2012 - 7:15 am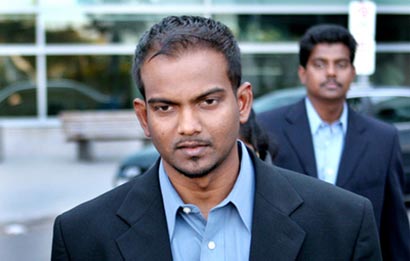 Onlanka News – By Walter Jayawardhana
A Canadian man from Malton who pleaded guilty to his role in a 2006 terror plot to supply computers and night vision glasses etc and had future plans to give them aviation equipment for Sri Lanka's Tamil Tigers was set free today.
Ramanan Mylvaganm, 35, was sentenced to time served when he appeared before a federal court judge in a Brooklyn, New York courtroom. His lawyer, Jerry Fong, had argued Mylvaganam used poor judgment, but has learned his lesson and is remorseful.
It's not immediately known when Mylvaganam will return to Canada.
The United States Department of Justice asked the judge to impose a 15-year prison sentence. U.S. attorney Loretta Lynch said in a sentencing report filed in court that Mylvaganam committed "a gravely serious offence."
Mylvaganam pleaded guilty in February to conspiring to provide material support to a foreign terrorist organization. Sri Lanka was in the midst of a bloody civil war at the time.
Mylvaganam and two other Canadians were arrested as part of a joint FBI/RCMP probe in 2006. His efforts to avoid extradition were turned down in 2010 by the Ontario Court of Appeal, which ruled he likely knew he was helping the Liberation Tigers of Tamil Elam.
Mylvaganam, at the time a computer engineering student at University of Waterloo, was arrested on Aug. 22, 2006 by the RCMP at his Derry Rd. E. apartment. He was picked up at the request of American authorities.
One month later, he was granted bail and returned to university, where he continued to pursue a master's degree.
Twelve men were charged in the joint FBI-RCMP investigation. The sweep also included arrests in Buffalo, San Jose, Seattle and Connecticut.
Prosecutors say the arrests were in relation to a network of men in Canada and the U.S. that used members' post-secondary studies as a cover for terrorist activities.
Officials say the group kept in contact with top Tamil Tiger operatives in Sri Lanka and the U.S. It tried to obtain compasses, computers and night-vision goggles for the Tigers, but also had bigger plans that included the purchase of aviation equipment, prosecutors allege.
Latest Headlines in Sri Lanka