Ranil hatching a 'Constitutional Conspiracy' – Ranawaka
Posted by Editor on April 7, 2015 - 8:29 am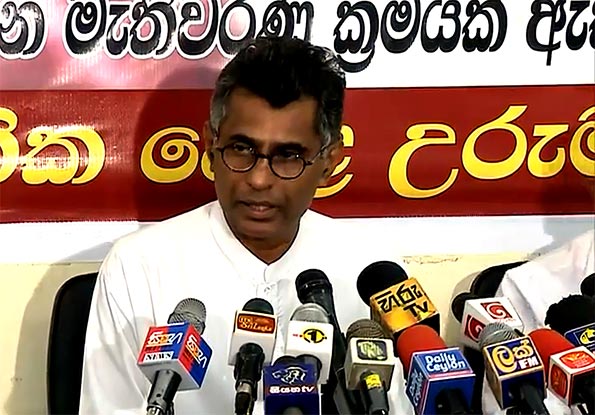 JHU General Secretary and Minister for Power and Energy, Champika Ranawaka said the 19th Amendment will only come into effect under a new Parliament and Prime Minster.
Ranwake addressing a media briefing held at JHU Headquarters yesterday (6) said the JHU would only support the 19th Amendment if electoral reforms are passed along the other constitutional changes. The JHU also asked that the constitutional changes be passed through a referendum, thus bringing it legitimacy from the people.
Ranawaka also criticized Prime Minister Ranil Wickremesinghe for what he called a 'constitutional conspiracy' aimed at transferring powers from the Executive President to an 'Executive Prime Minister'.
"The Prime Minister left out a very important section of the 19A in the recently published gazette-the part about electoral reforms. They state that there is no consensus on it so it cannot be included but there is no consensus on the 19A itself", said Ranawaka.
He further stated that the published gazette had not included the amendments agreed to in the party leaders' meeting held on 15 March. He alleged that Wickremesinghe was trying to present a gazette to Parliament, which was not approved of by the political parties.
The minister said the Prime Minister's 19A was a 'photocopy' of the 1972 Constitution where the President was simply a figure head in the country, "we will not let an elected President be turned into a puppet", said Ranawaka.
Speaking on the JVP which has been in favour of the proposed 19A, Ranawaka said, "The JVP has been objecting to electoral reforms for the past 10 years because the proportional representation (PR) system has been favourable to small parties like theirs. To the JHU too this present system is good but it is bad for the country".
Out of the 16 new electoral systems proposed by the Elections Commissioner, the JHU said they preferred the system where 150 seats were allocated to divisions, 75 to districts and 25 from the national list. Minister Ranawaka said, "We don't want the Executive Presidency in its present form, it has to be democratized", added that the following powers have to be removed from the Executive:
(Ceylon Today)
Latest Headlines in Sri Lanka