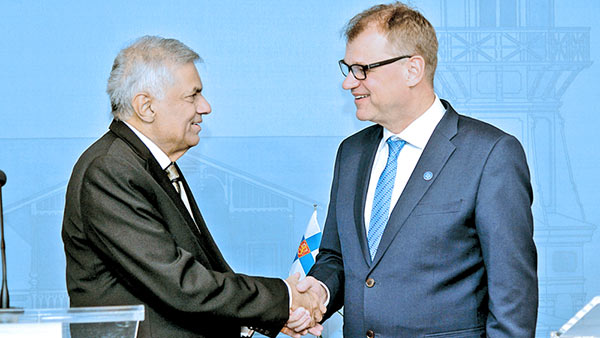 Prime Minister Ranil Wickremesinghe and Finland's Prime Minister Juha Sipilä agreed that a concrete pilot project would be initiated in the field of wave energy in Sri Lanka.
At a meeting held at the residence of the Prime Minister of Finland in Helsinki, Finland yesterday, the Prime Ministers discussed about their common commitment to strengthening ties between the two countries in the field of energy with a forward looking and a business- minded approach.
The Prime Ministers agreed that the national instruments facilitating the utility scale deployment of near shore wave energy power plants would be utilised as part of the implementation of Sri Lanka's energy plan to foster the use of the country's vast coastline and immense wave energy resource.
Prime Minister Wickremesinghe emphasised the important role of innovations in achieving national targets and international mitigation of climate change, enhancing energy efficiency and utilisation of clean and renewable energy technologies.
He further said the experience of Finland of introducing a new Constitution was also discussed at the meeting and added it would be useful as Sri Lanka is also in the process of formulating a new Constitution.
Prime Minister Wickremesinghe noted that they had discussions about creating connections with educational institutes in Finland as they have one of the best education systems.
"It will be useful to remodel our education system as well, especially with regard to the implementation of mandatory education for 13 years,"he said.
Finnish Prime Minister Juha Sipilä assured that Finland can support Sri Lanka in its effort to acquire suitable technology from Finland to meet its renewable energy production goals and increasing demand and added that they would provide experts as well as grant loans with concessionary interest rates to carry out the projects.
The two Prime Ministers agreed that Sri Lanka and Finland will continue working to identify mutual areas of interest and possible cooperation activities in the areas of clean and renewable energy in power generation : wind, biomass, hydro, geothermal,wave, municipal, industrial, agro and solid waste, Smart power generation, Energy storage and Small and medium scale LNG terminals,
Responding to a question raised by a Journalist whether these projects could be successfully implemented in Sri Lanka, Prime Minister Wickramasinghe said that Sri Lanka has higher potential for the development of energy sources and added that there are possible opportunities for collaboration between the two countries in a sustainable, innovative and profitable way.
(Source: Daily News – By Nushka Nafeel in Helsinki)