'Ranil tactics, only to gain political mileage'
Posted by Editor on February 12, 2012 - 7:05 am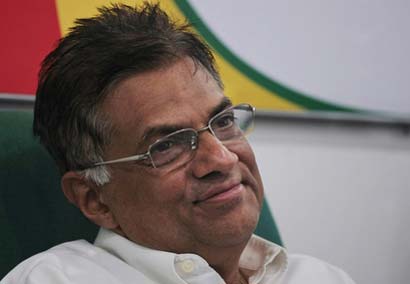 Many political, religious and social leaders yesterday condemned Opposition Leader Ranil Wickremasinghe's statement and categorised it as a move to take political mileage ahead of the UN Human Rights Commission (UNHRC) sessions by discrediting the country.
Minister of Trade and Consumer Affairs, Johnston Fernando said that the Opposition leader is coming out with concocted stories for his own survival. "This is nothing new. He has been going round the world tarnishing Sri Lanka's image before the international community. That is why the people have rejected him and his party at successive elections," he said.
Referring to problems in the villages the UNP statement has stated, Minister Fernando said only the Sajith gama and Ranil gama are in flames due to infighting while villages around the country are prospering under President Mahinda Rajapaksa. "How could Wickremesinghe give solutions to national problems when he can't put his own house in order?"
"He is making allegations through the statement purely for his political survival," the Minister said.
President of the Patriotic People's Movement, Siripala Gunasinghe said that the statement made by the UNP leader is a shameless attempt to take political mileage ahead of the UNHRC Sessions.
"At least now, the UNP leader must stop tarnishing Sri Lanka's image. We must not take our political differences before the international community.
If the UNP leader has an issue to settle politically, he should do it at elections. Since the UNP can't win a single election under his shaky leadership, he is resorting to low grade political tactics," Gunasinghe said.
Vidyajothi Ven. Dumbara Amarawansa thero said that Wickremasinghe should give up his disgraceful style of political practices and take on the Government in true democratic spirit.
"He should practice parliamentary democracy and settle scores at right forums, rather than making controversial statements without substance and give ammunition to international elements which target Sri Lanka," Ven. Amarawansa thero said.
He added that the LLRC Report has provided an ideal platform for national reconciliation and that all political leaders must make use of this opportunity to develop unity among all ethnic groups. "We should not miss this opportunity for a greater national reconciliation to have a country which belongs to all ethnic groups here.
The LLRC Report is certainly food for thought and based on those recommendations, we could have home grown solutions to our problems," he said.
Several other political and social leaders condemned the UNP statement and described it as a timely move to suit international agenda. "Perhaps, Wickremasinghe is gearing to dance to the tune of INGOs for reasons best known to him. But the statement gives personal views of Wickremasinghe and not that of the UNP," a UNP MP for the Reformists Group, who wished to remain anonymous for obvious reasons said.
"He is no more our leader and is only holding on to that position by force.
He will do anything and everything to remain there. We will not approve the views of Wickremasinghe. He should stop party politics at this crucial stage and unite to save the country from international conspiracies," he said.
Courtesy: Sunday Observer
Latest Headlines in Sri Lanka