Ranil wants AP delegation to visit Jaffna
Posted by Editor on January 5, 2011 - 9:11 am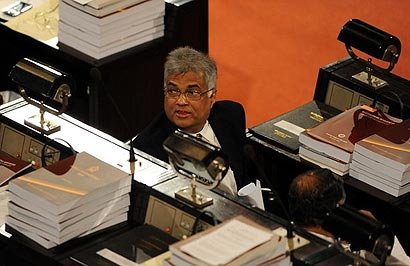 Courtesy: The Island – Pix by Getty Images
UNP and Opposition Leader Ranil Wickremesinghe told Parliament yesterday that he had written to Speaker Chamal Rajapaksa requesting the latter to make arrangements for an all party parliamentary delegation to visit Jaffna to assess the current situation there. Wickremesinghe said that a full-day debate on the current situation in Jaffna was needed and it should be held in Parliament as soon as possible. Wickremesinghe made this statement soon after Traditional Industries Minister Douglas Devananda made a special statement to the House on the recent violent incidents in Jaffna. The Minister said that the security situation in Jaffna peninsula was deteriorating very fast and the issue had to be addressed without further delay. The Minister said that the Jaffna people who had seen so much agony and destruction were enjoying the peace and tranquillity following the wiping out of terrorism from the North and the East. "There is once again a fear psychosis growing among the people that there would be a return to violence," Minister Devananda said.
He said the security forces and the judiciary in the area must work together to ensure that crimes were investigated and the culprits punished. Recently, a member of clergy had been wounded and the culprits responsible had been identified. "They must be brought to the book," the Minister said. Minister Devananda added that it was important for the government sustain the confidence of the people in the area.
Opposition Leader Wickremesinghe said that it was a very serious matter and the House must pay its fullest attention to this situation. Insisting that a Parliamentary delegation visit Jaffna to assess the current situation, Wickremesinghe said that he would take up the matter at the next party leaders' meeting to seek the approval of other party leaders.
The letter addressed to Speaker Rajapaksa read: "A certain amount of consternation has arisen in the minds of the public and more particularly Members of Parliament about the deteriorating security and law and order situation in Jaffna.
The UNP Parliamentary Group has resolved that you lead a delegation of Members of Parliament drawn from the ranks of both the Government and the Opposition to visit Jaffna so that they could study the situation at first hand instead of having on rely on reported statements.
It will be appreciated if you will discuss this matter at the next meeting of the Parliamentary Business Committee (Party Leaders)."
Latest Headlines in Sri Lanka