Ranil wants Sri Lanka to grow with ETCA and FTAs
Posted by Editor on July 13, 2016 - 7:03 am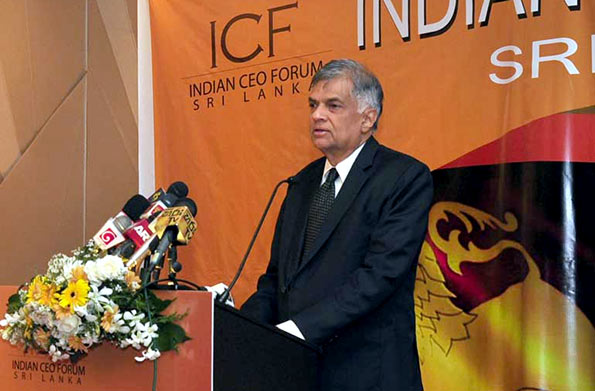 Prime Minister Ranil Wickremesinghe yesterday drove home the point that Sri Lanka's future lies in greater trade with the world and the Economic and Technological Cooperation Agreement (ETCA) with India and Free Trade Agreements (FTAs) with China and Singapore are being pursued with vigour.
"Sri Lanka has always prospered in the past by trading with India. The ETCA will make Sri Lanka and the southern part of India the fastest growing subregion in the South Asia. Hence the ETCA is important and I want it to succeed," the Premier said at the Annual General Meeting of the India CEO Forum Sri Lanka.
While there is growing optimism in India over the impending ETCA, the Prime Minister also revealed that Sri Lanka was also going for Free Trade Agreements with China and Singapore while being on course to regain GSP+ covering the European Union.
He told the India CEO Forum members that for South Asia to sustain high growth there must be structural changes in the economy and for Sri Lanka, that apart, greater international trade was necessary as it could not rely on domestic demand alone. This, he emphasised, was the basis for the ETCA with India as well as trade expansionary deals with several other countries.
"We are keen to take full advantage of the geo-economic position of Sri Lanka. We will make Sri Lanka a hub or the centre for business in South Asia," Wickremesinghe emphasised. "Sri Lanka has to join the global value chain to boost its manufacturing and services sector," the Premier added.
Towards achieving these goals, Wickremesinghe outlined plans and programs such as economic reforms, the doubling of investment in infrastructure, Logistics Hub, Megapolis, the International Finance Centre in Colombo Port City, the Southern Development Plan, the Kandy Development Plan and the Trincomalee Development Plan as well as a special focus on the North.
Additionally, the Government will pursue fiscal consolidation, greater Public-Private Partnerships, the digitalisation of the economy, simplified taxation and new incentives to high employment-generating businesses.
Guest of Honour, Indian High Commissioner Y.K. Sinha, said a fresh round of negotiations on ETCA would "commence soon" with a delegation from New Delhi coming over to Colombo. A fortnight ago Development Strategies and International Trade Minister Malik Samarawickrama held talks in India.
"Indo-Lanka bilateral relations are sound but we can do a lot more to make it stronger," he said, adding that since the signing of the FTA between the two countries bilateral trade has grown exponentially by 13 times to $ 5 billion.
India CEO Forum Sri Lanka Founder President Sanjay Tiwari, who relinquished his post after serving for three years, said the 53-member professional organisation was committed to being a key part of Sri Lanka's future development goals. The India CEO Forum member firms' investment in Sri Lanka is over $ 600 million, providing 18,600 jobs.
(Source: FT.LK – By Nisthar Cassim)
Latest Headlines in Sri Lanka