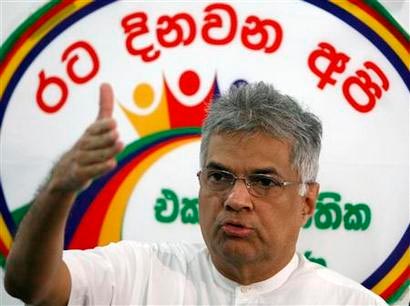 UNP and Opposition Leader Ranil Wickremesinghe yesterday warned that Sri Lanka might even lose her membership in the Commonwealth if the moves to oust incumbent Chief Justice Dr. Shirani Bandaranayake, continue violating basic fundamentals.
Addressing a public seminar titled 'People's Sovereignty and Human Rights', organized by the Platform for Freedom in Colombo yesterday, to mark the 64th International Human Rights Day, Wickremesinghe noted Sri Lanka was a member of the Commonwealth and was bound to follow its principles.
If the government violated those principles it would even lose the Commonwealth membership, he said.
The Opposition Leader pointed out that the country was already being pulled up at the UN Human Rights Council for various other reasons and in this background the government had to take utmost care in handling the case against the Chief Justice.
The Chief Justice should not be removed from her position without first handing over the case to an independent panel of investigators from the International Community including the Commonwealth nations, Wickremesinghe said. The panel should comprise at least three judges from Commonwealth countries, he said.
The methods and means being employed to oust the Chief Justice would not only result in her removal but also bring disrepute to the country, he said.
Dr. Wickremabahu Karunaratne and Civil activist W. Janaranjana also addressed the gathering.
Courtesy: The Island