Ravana Balaya calls for arrest of Bishops
Posted by Editor on January 17, 2014 - 9:01 am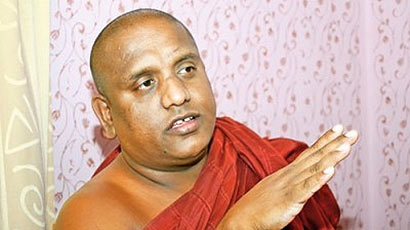 General Secretary of the Ravana Balaya, Ven. Iththekande Saddatissa Thera, filed a complaint with the police against the Bishops of Jaffna and Mannar, yesterday (16), calling for an inquiry into the false information they had provided to Stephen J. Rapp, during his recent visit to Sri Lanka.
Saddatissa Thera has stated that Jaffna Bishop, Thomas Saundranayagam, and Mannar Bishop, Rayappu Joseph, had made false statements to the United States Ambassador-at-Large…
…for War Crimes Issues in the Office of Global Criminal Justice, Stephen J. Rapp. He particularly cited the case of Bishop Joseph alleging that chemical warfare was used by the Sri Lankan Military.
Commenting on the issue, Police Media Spokesman, SSP Ajith Rohana, said, "We are considering the issue. We don't know the legal framework, but we are also looking into the illegality of the statements made by them."
Saddatissa Thera said, "We gave the letter to DIG Ajith Wickremasekera at the Police Headquarters as the IGP was not available at the time we went to lodge the complaint. Saundranayagam has informed Rapp about the use of cluster bombs when our Military never had cluster bombs. These are false, absurd statements, and mere gossip. If, as Bishop Joseph states, chemicals were used, then all animals should also have died like they did in Syria. If there is a law in the country against rumour mongers, then these two persons, who are putting the entire nation in jeopardy, must be brought before the law. We have nothing to lose. As such, the government need not be afraid of further persecution by the international community. They should arrest them and question them."
(Courtesy: Ceylon Today)
Latest Headlines in Sri Lanka