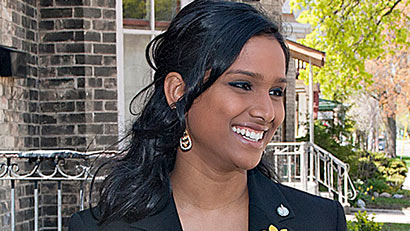 Canada's first Tamil MP Rathika Sitsabaiesan says officials followed, interrogated her during a family visit to Sri Lanka and that it only took a day for her to realize she was being followed.
The first person to notice the men on motorbikes was her hired driver. On the day she arrived in Sri Lanka, where the 32-year old MP was born, he told her that people were following them, Canadian media reported.
"I was slow to catch on, because I didn't expect it, I wasn't used to it," Sitsabaiesan told the Star in her first interview since returning to Canada on Tuesday.
"And then the next day it happened, and we were like 'Oh, this is a constant thing.' And then outside my hotel, they would just hang out and give word when I left."
Sitsabaiesan went to Sri Lanka on Dec. 28, 27 years after her family immigrated to Canada. The NDP MP for Scarborough-Rouge River — the first federal parliamentarian of Tamil descent and a vocal critic of the Sri Lankan government — said it was a personal trip, not a political one, to see family and the few places she remembered from her early childhood.
The men on the motorbikes, however, seemed to suspect otherwise.
On New Year's Eve, Sitsabaiesan said she visited an orphanage she was considering supporting. While she toured one of its three buildings, the employee giving the tour received a phone call that a group of people had arrived at the main entrance with a warrant for Sitsabaiesan's arrest.
"We were like, 'Holy wow, they actually showed up.' And there was no reason for them to show up, because there was no reason for them to have an arrest warrant," Sitsabaiesan said.
She said she wasn't about to get arrested in front of the orphanage — she felt she had done nothing wrong in visiting family, her grandfather's and mother's old houses, and her family's former store. So she slipped away unnoticed, returned to her nearby hotel and changed rooms.
She immediately called the Canadian High Commission, NDP Leader Thomas Mulcair and the party's foreign affairs critic, Paul Dewar.
"It was a few hours of me staying in my hotel room and not even opening the curtain, because I didn't want anyone to know I was in there," Sitsabaiesan said. "Just waiting to get word from the high commission whether there is a real arrest warrant or not."
It was that night that a number of news reports said she had been placed under house arrest. Sitsabaiesan said she had not spoken to any media outlets, and did not know the origin of that story.
After consulting with four law enforcement agencies — local police, the criminal and terrorism intelligence divisions, and immigration authorities — Sitsabaiesan said the high commission found there was no warrant. Only then did she feel safe enough to leave her hotel.
The next day, she said, government officials caught up with her while at a factory owned by a friend's family member.
The factory trip was not planned — Sitsabaiesan said she spilled something on her shirt and needed a place to change along the road — but three men identifying themselves as immigration officers found her there.
"They wanted a space where it was private and nobody else was allowed in. They were standing in the doorway, and it was me and these three men," said Sitsabaiesan.
"They had a list of exactly what I've been doing, and they go, 'You did this, you did that, you met with this person, you did this, who is this person, why, give me names, give me contacts, give me this and that.' "
She said she was intimidated by the line of questioning, but after the experience the day before, was also conscious of her privileges as a Canadian and as a Member of parliament.
"Eventually, the controller general of immigration was on the phone saying, 'You know, we're trying to protect you and we're looking out for your best interests by following you,' " Sitsabaiesan said.
The Star could not reach the Sri Lankan High Commission in Ottawa for comment, but officials have previously accused Sitsabaiesan of attempting to "embarrass" the Sri Lankan government.
"While Sri Lankan authorities handled this issue in a responsible manner, the statement made by Ms. Sitsabaiesan . . . that she was subjected to 'political intimidation' is erroneous and is an attempt to unfairly embarrass the Sri Lanka Government," a statement posted to the high commission's website reads.
In an editorial, one state-owned media outlet described the rookie MP as a "destroyer of peace" who planted the house arrest story to garner votes with the Tamil population in Scarborough—Rouge River.
That same outlet published comments apparently from Deputy External Affairs Minister Neomal Perera alleging Sitsabaiesan was part of a "pro-LTTE (Liberation Tigers of Tamil Eelam) lobby."
"This is typical of their disinformation campaign. They use their sophisticated international media network to spread stories like this," the newspaper reported Perera as saying.
"She did not come to Sri Lanka because she loved the Tamil public. It is said that she is to submit a report on the lives of Tamils in this country and development activities in Sri Lanka."
Sitsabaiesan firmly denied participating in any political activity while on her trip.
She praised Foreign Affairs Minister John Baird and Lynne Yelich, the minister of state for consular affairs, and their offices for their help through the ordeal.
"Minister Baird and Minister Yelich's office were texting me and saying, 'We're here for your support if you need anything, if you have any updates let us know.' And so it was great that on New Year's Eve that all these people came to have my back," Sitsabaiesan said.
And she said that, if anything, the experience strengthened her resolve to fight for human rights in Sri Lanka and across the world.
"That's the reality for people in that country. I just had a small taste of it."
(Courtesy: Ada Derana)