Ravi denies pressure from President, PM to resign
Posted by Editor on August 6, 2017 - 7:42 am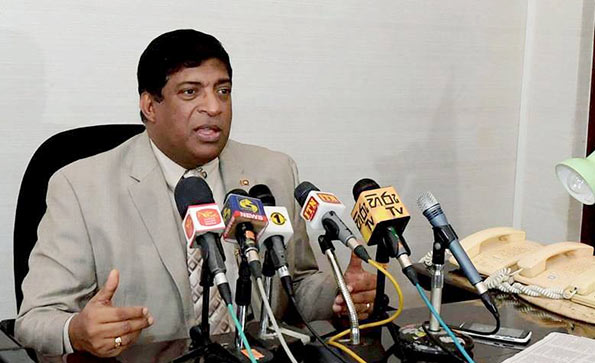 Foreign Minister Ravi Karunanayake Saturday denied he was under pressure from President Maithripala Sirisena to resign following his testimony before the commission investigating the controversial bond auctions.
Karunanayake said the President had not even spoken to him on the matter since his testimony on Wednesday and there was no question of him being asked to go.
"Rubbish," he replied when asked if he was stepping down following media reports that the President asked him to resign. "He has not even spoken to me on this issue."
He said neither the President nor Prime Minister Ranil Wickremesinghe had discussed with him about his evidence nor did they ask him to resign.
"Why should they," he said. " I have not done anything wrong."
The commission, which is investigating bond sales between February 2015 and March 2016, was questioning Karunanayake about his apartment at Monarch after the owner testified she leased it to him through a third party.
Anika Wijesuriya said the fifth floor apartment was leased to a company of Arjun Aloysius of Perpetual Treasuries which is at the centre of an alleged securities fraud. Anika Wijesuriya did not object to Aloysius fronting the lease for the Karunanayakes.
Karunanayake told the commission that the lease had been arranged by his wife and daughter who was friends with both Arjun Aloysius and Anika Wijesuriya and he was unaware of the financial details.
He said his wife's Global Transport and Logistics (GTL) had paid the lease amounting to some 1.45 million rupees a month to Perpetual. Karunanayake had stepped down from the board of GTL soon after he became finance minister in January 2015.
GTL had eventually bought the fifth floor apartment at Monarch for 165 million rupees.
Karunanayake told the commission that he would not have moved in to the apartment in if he knew that the lease was initially arranged through Perpetual, but insisted that he had not violated any laws and he did not engage in business with Perpetual.
The Commission, comprising Supreme Court Justices K.T. Chitrasiri and Prasanna Sujeewa Jayawardana and retired Deputy Auditor General Kandasamy Veluppillai, is only a fact finding exercise.
Its findings are not enforceable , but evidence before it could be used in a separate criminal prosecution.
Members of the Joint Opposition have given notice of a no-confidence move against Karunanayake.
(Source: ECONOMYNEXT)
Latest Headlines in Sri Lanka