Relationship between Europe-Lanka strong and old – EC President
Posted by Editor on October 6, 2010 - 7:16 am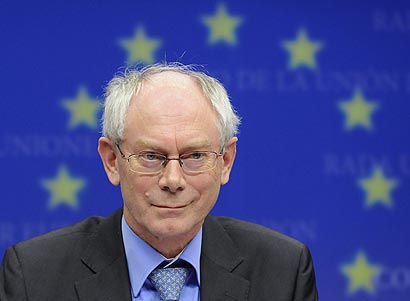 President of the European Council Herman Van Rompuy has characterized the relationship between Europe and Sri Lanka as "strong and a very old one", and that between Belgium and Sri Lanka as "excellent".
Mr. Van Rompuy, who was previously the Prime Minister of Belgium, made these observations when he and Madam Van Rompuy participated as the Guests of Honor at a concert by Sitar Virtuso Pradeep Ratnayake and his ensamble held at the Palais des Beaux Arts (BOZAR) in Brussels on Saturday (2 October 2010). The event was part of the cultural programme held to coincide with the Asia-Europe Summit Meeting (ASEM8) which is taking place in Brussels from 4-5 October.
Reminiscing on his visit to the island in 2000, President Van Rompuy said " personally, I have the best memories of my trip to Sri Lanka. At the time I was an opposition member of the Belgian Parliament." He recalled visiting Colombo and Kandy and meeting with Sri Lankan leaders. The EC President who along with other guests had prior to the concert savored "Ceylon tea" at the Sri Lanka tourism, travel and trade promotion held at the BOZAR, reminded his audience that "tea was first planted in Ceylon by the British", and that "two more members of our EU member states – the Portuguese and the Dutch have influenced and marked the history of the island". He added "Sri Lanka and Europe have influenced each other for hundreds if not thousands of years. Let me stress this was not all one way. Around 500 BC Sri Lanka had already constructed some of the largest reservoirs and dams of the ancient world." Noting that "the art, musical, theatrical and dance heritage of Asia is exceptionally rich and sophisticated, and continues until today to exercise a strong influence", the EC President described Pradeep Ratnayake "as a living example of blending different influences from the North Indian to jazz and western classical music".
Courtesy: Ada Derana
Latest Headlines in Sri Lanka