THOSE WHO MASSACRED EVEN MAHA SANGHA ARE MINISTERS TODAY, SAYS VEN. SOBHITHA
Posted by Editor on October 7, 2010 - 10:11 am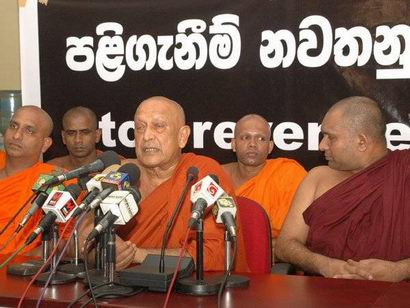 October 06, 2010: Those who bombed the Sri Dalada Maligawa, attacked Sri Maha Bodhi and shed blood killing scores of devotees, massacred over 500 unarmed policemen and hacked to death 35 Buddhist monks at Arantalawa in the most inhuman manner, are government ministers today, said the Venerable Maduluwawe Sobhiha Thera, Chief Incumbent of the Sri Naga Vihara.
Addressing a media briefing held last afternoon, the Thera said that there were no cases heard on the heinous crimes and not even an investigation. Neither they asked pardon for those crimes.
"Irrespective of whatever the wrong committed, the victory over terrorism stands tall about all of those things, and we therefore request the President to value this victory and release him.
"The credit for that great deed will invariably go to the President," said the Venerable Maduluwawe Sobhitha Thera.
He also said that a special pooja has been scheduled at the Temple of the Sacred Tooth Relic in Kandy on Thursday, with the participation of the Maha Sangha, to invoke the belessing on Sarath Fonseka who is currently in prison.
Courtesy: News First
Latest Headlines in Sri Lanka