Renewal in spirit, new expectations; President's News Year Message
Posted by Editor on April 14, 2011 - 1:57 pm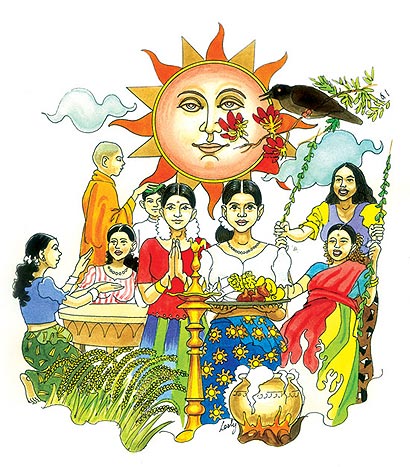 From ancient days the great cultural festival of the Sinhala and Tamil New Year has brought satisfaction and joy to the vast majority of our people. It is a festival that pays homage to the sun for the strength given to the land and people and is also the annual harvest festival that echoes the achievements of the rural people, President Mahinda Rajapaksa said in a New Year message.
The message: "We celebrate this New Year at a time when production is progressing rapidly in agriculture and all other areas of development. It is also a time when all enjoy the freedom achieved in our Motherland. Therefore, this New Year will help bring a renewal in spirit and new expectations to the people about future progress.
"The New Year traditions coming down through centuries add to the joy of celebration. We can give this joy to future generations by making our children aware of its importance in our way of life.
"We must create every opportunity for our children who cherish the New Year festivities to join in observing the many rituals and traditions that they are associated with it. Therefore, to ensure the safety and joy of our children in celebrating this event, I appeal to you all to keep away from all intoxicants during this festive season. I trust this will contribute to bringing its joy closer the children and women of our country.
"I extend my deep gratitude to the members of the Armed Forces, Police and Civil Defence Corps, as well as a ll employees of the State and Private Sector who have made a commitment to be at their posts during the festive season. I wish you all Happy and Prosperous New Year!"
Let us achieve all development goals
It is as an elder and a friend that I extend my sincere greetings to all citizens of a free country on the occasion of the Sinhala and Tamil New Year which marks the movement of sun god from Pisce to Aries in the Zodiac Prime Minister DM Jayaratne said in a New Year message.
Message from Prime Minister D M Jayaratne
"The dawn of the Sinhala and Tamil New Year or the sun festival has taught Sri Lankans many lessons," the Prime Minister said.
We should remember that no other country or nation has a noble custom such as the new year customs of homes in all parts of the country from North to South rally round at a single auspicious time to light the hearth, boil milk, commence work and partake of food", the Prime Minister said.
The message: "That friendship and relationship which was subdued by Prabhakaran by the power of the gun has blossomed once again. We are enjoying this renewal, new link and joy thanks to a patriotic son who has rendered his duty and service to the motherland without hesitation. He is none other than President Mahinda Rajapaksa.
We have to gratefully remember that he occupies a special place in the hearts of the people of all community in this country.
"We would never have enjoyed this new found freedom to perform our new year customs if not for him. He has crowned the people with happiness after their sorrowful past.
"Let us heartily wish the North and South a happy New Year. Let us wish strength and courage to one and all to achieve all individual hopes and aspirations as well as create a righteous nation by achieving all development goals as a nation".
Courtesy: Government News Portal
Latest Headlines in Sri Lanka