Reviving separatist terrorism in Sri Lanka: Doors wide shut; Treacherous forces will be crushed:
Posted by Editor on December 16, 2010 - 8:52 am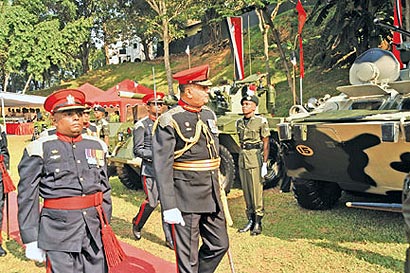 Army Commander Lieutenant General Jagath Jayasuriya yesterday assured that no room would be allowed for the uprising of any treacherous forces within Sri Lanka whatever the inimical forces who may raise their heads in the international sphere.
Addressing the gathering at the 55th anniversary of the Armoured Corp Regimental Headquarters, Rock House Camp in Modera, Army Commander Jayasuriya said that the Army is on alert against any resurfacing of terrorism in Sri Lanka.
He said that the country should be prepared to face any type of challenges as a united nation at the dawn of this new era in the aftermath of the elimination of terrorism.
The Army Commander said that he was of the view that military forces should be further strengthened to face any challenge. He added that the government with this objective is discussing to import Russian armoured vehicles with modern technology for the Armoured Corps Regiment.
He said that the public has a strong belief that military forces would play a pivotal role in developing the nation in the same manner that the forces liberated the people affected by terrorism by launching the humanitarian operation.
The Army Commander added that the forces also bear a massive responsibility in fulfilling the wish of the nation and President Mahinda Rajapaksa to make this country the Wonder of Asia through building the nation.
"The forces should be committed to prevent an uprising of terrorism again and as well as to build the nation", Lt Gen Jayasuriya said "the Army is on alert to face any challenges, directions by Defence Secretary Gotabaya Rajapaksa in that respect are appreciable".
Army Commander Lieutenant General Jayasuriya said that he hope the personnel of the Armoured Corps Regiment would receive many opportunities to serve in the United Nation's Peace Keeping Forces after the regiment is further strengthened.
Courtesy: Daily News
Latest Headlines in Sri Lanka