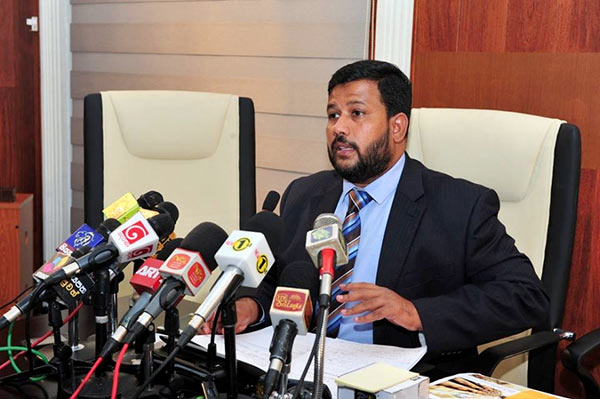 As imported rice volumes began feeding into domestic retail and wholesale channels, Minister of Industry and Commerce began making surprise visits to learn about the market status first-hand on the eve of 15 February.
"There is no shortage of rice in the market as speculated" said Minister of Industry and Commerce Rishad Bathiudeen on the eve of 16 February. Minister Bathiudeen accompanied by officials of the Consumer Affairs Authority, was addressing the media and camera crews that joined his visit to a privately owned rice warehouse at Fifth Cross Street, Colombo city, on the eve of 15th.
"Imported rice is now distributed and rice shortage is now ending. There is no shortage of rice in the market as speculated" said Minister Bathiudeen, and added: "I visited many shops and rice wholesalers around here in Colombo and all of them are selling rice at given Maximum Retail Prices (MRPs), and certain places are selling competitively at even lower prices! For example, at this sales shop at Colombo 5, Ponni Samba is sold at Rs 64 when the MRP for it is Rs 80. Consumers are requested to call our hotline 1977 to complain of any errant rice sales anywhere from Sri Lanka. 250 officers of CAA are raiding shops across the island today. I ask individuals to refrain from spreading false information and rumours about this. The rice I am talking about today is not the domestically milled rice but imported rice on which we reduced the import tax to a mere Rs 5."
The wholesale rice distribution warehouse that was inspected by Minister Bathiudeen was not chosen by Minister Bathiudeen or his CAA but only by the accompanying media and news camera teams by themselves.
By order No 41 issued by CAA under Consumer Affairs Authority Act No 9 of 2003's section 20(5) MRPs for three rice varieties -Nadu, Raw Rice and Samba- was set at Rs 72 for a kilo of Nadu, Rs 70 for a kilo of Raw and Rs for a kilo of Samba (excluding Keeri Samba and Suduru Samba).
(Government News Portal)