Rs 30.8m tome on Ferrari with 1,500 diamonds: Lankan buys world's most expensive book
Posted by Editor on June 5, 2011 - 7:40 am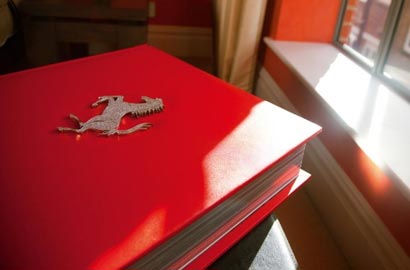 A Sri Lankan has become the first in the world to buy the world's most expensive book currently in print – an astounding Rs.30.8 million  worth (US$ 275,000) tome on carmaker Ferrari encrusted with 1,500 diamonds. In comparison, a Ferrari 458 Italia car costs only around US$ 225,000.
Only 300 copies of the 37 Kg, 872 page book will ever be published, at the rate of just one copy per country. The Sri Lankan Ferrari aficionado identified only as Arjun Wickramasinghe, a senior executive of a publishing company, has told publisher Opus Media Group that he was buying the book for his son. Incidentally, there are only a very few Ferraris in Sri Lanka. The only other buyer of the book so far is from Australia but wealthy car lovers from Italy, USA, UK and UAE are waiting in line. Titled "Enzo Diamente Edition – The Official Ferrari Opus" the book is a remarkable homage to the famous prancing horse from Maranello.
The 1,500 diamonds (30 carats) have been used to create Ferrari's prancing horse logo on the cover of the book with painstaking precision.
Founded by Enzo Ferrari in Modena in 1929, the Italian company is commemorating its history by publishing the world's most expensive book ever.
This collector's piece, released at the Melbourne Grand Prix in March, contains every detail of every race Ferrari has entered, plus exclusive interviews and profiles of every driver who raced for the team. Of the 200,000 words and 2,000 pictures in the book, nearly 75 percent is exclusive, never-seen-before-in-print content. The Opus includes gatefold pictures, two metres long and exclusive interviews with motorsport legends who have been part of Ferrari's unique history.
Publishing director for Opus Media Group Antonio Ghini, said, "Ferrari Opus is not a book, it's a concerto. A triumphant opera whose score is made up of cars, technology, history and achievements, and whose protagonists will live forever. Opus, like Ferrari, is a unique experience."
Siroya Collections, a Dubai-based diamond jewellery company, was chosen to create the diamond-encrusted silver prancing horse that graces each of the 300 copies of this special diamante edition.
At the end of the sale of the books, the owners automatically qualify for a raffle to win a Ferrari F1 car.
The original budgeted schedule for the Ferrari Opus was set at 12 months for complete content creation. It actually took three years to create the massive tome.
"It reflects the craftsmanship and investment value and rarity that each one of those special copies holds. It does not have a value. It is priceless. The owner of the Sri Lanka edition of the Ferrari Diamante told me recently that he bought his copy not for himself but for his son – he wants to hand it down in years to come. That put a big smile on my face," CEO of the Opus Media Group, Karl Fowler told Gulf News.
For those who can't afford the $275,000 Enzo Diamante edition, the book will be soon available in three other editions: $34,925 Enzo, the $6,545 Cavallino Rampante and the $3,520 Classic.
Courtesy: Daily News
Latest Headlines in Sri Lanka