SAITM has due approval from UGC: Dr. Fernando
Posted by Editor on February 8, 2017 - 7:45 am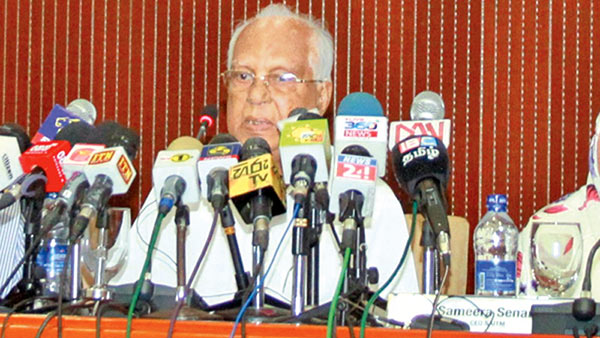 The South Asian Institute of Technology and Medicine (SAITM) has received approval and recognition from the University Grants Commission (UGC) as a degree awarding institution, SAITM Chairman Dr. Neville Fernando said. He said the medical faculty of SAITM has been continuing to uphold the standards of medical education.
He was addressing the media along with academic staff of the SAITM medical faculty yesterday.Dr. Fernando said SAITM always continues to uphold the standards of medical education in collaboration with the authorities including the UGC and the Higher Education Ministry to produce doctors of the highest standards."We are certain about the standards of our pass-outs and therefore we urge the authorities to conduct a common general examination for all medical graduates including medical graduates of all nine state medical faculties, graduates of Kotalawala Defence University and graduates of SAITM.
Then it will be obvious as to who will perform well. But the Medical Council and the Government Medical Officers' Association (GMOA) are reluctant to have such an examination," Dr. Fernando said. According to him certain politically motivated persons and political parties were trying to gain political power through SAITM leveling various allegations on the quality of SAITM graduates. He urged such elements not to make SAITM a scapegoat for their agendas.Prof. Deepthi Samarage said SAITM was a brainchild of former President Mahinda Rajapaksa since he helped immensely to commence SAITM in 2008. Prof. Samarage said there is no problem whatsoever relating to the quality of the medical graduates of SAITM. However, the GMOA and the Medical Council are continuously leveling various allegations on the quality of SAITM, she said.
She asked the Medical Council to guide and point out any shortcomings in SAITM, which they would rectify. SAITM CEO Dr. Sameera Senaviratne said SAITM was taking measures to obtain medical degree offering status from the UGC a few years ago on the advice of then Chairman of the SLMC Prof. Lalitha Mendis. "But that initiative was obstructed by the SLMC itself after the change of the chairmanship of the SLMC.
(Source: Daily News – By Dharma Sri Aberatne)
Latest Headlines in Sri Lanka