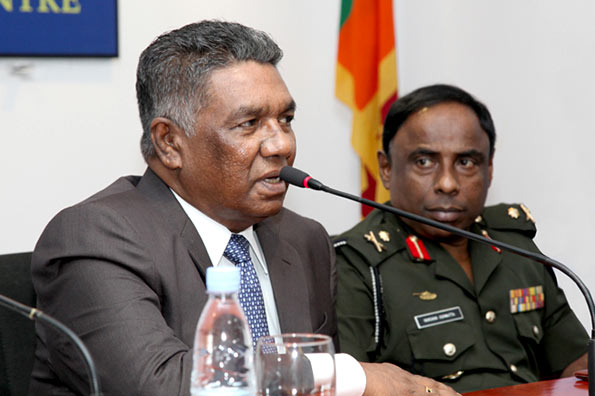 Sunday's disaster at the Salawa Army Camp at Kosgama had occurred while a special event was going on within the camp premises, Defence Secretary Karunasena Hettiarachchi said yesterday.
Asked what the special occasion had been, the Defence Secretary did not give a direct answer but mentioned fire drills among other things.
Hettiarachchi said he was not in a position to reveal the exact cause of the base fire. He would do so in time to come, he said.
He was addressing journalists at the Defence Ministry's Media Centre yesterday.
According to the decisions taken at the Security Council meeting, a special court made up of tri-forces had already been set up to probe the incident at the Salawa Army Camp, besides the Magisterial and CID investigations, Hettiarachchi said.
He said action would be taken against those responsible for the disaster, according to the country's law.
Hettiarachchi said all armouries of tri – forces would be shifted to unpopulated areas within a few months, according to a decision taken at the Security Council meeting on Monday.
He said Cabinet approval for relocation of armouries would be obtained shortly on the instructions of President Maithripala Sirisena, who is the Minister of Defence.
Hettiarachchi said there was no proof that such a move had been made by the previous government. "I checked with ministry officials, but the previous government had not taken a decision to relocate armouries to isolated areas."
Hettiarachchi said no one could reach the Salawa camp premises so far as there were still unexploded ordnance though the fire had been doused by Monday evening.
"We deployed the bomb disposal unit of the Special Task Force to clear the place," he said, adding that they expected to reopen the Avissavella-Colombo main road as soon as possible.
Hettiarachchi said about 1,000 people evacuated from the immediate danger zone due to the explosion had stayed in temporary shelters, but the number had come down to 600 by yesterday morning. He ruled out that the fire at the armory at Salawa Army Camp was a threat to national security.
Military Spokesman Brigadier Jayanath Jayaweera said people could return to their homes beyond a distance of 500 meters from the camp as the area was safe now.
"We ask people to hand over any debris that they find in their home gardens and surroundings to the authorities," Brig. Jayaweera said.
(Source: The Island – By by Dasun Edirisinghe)