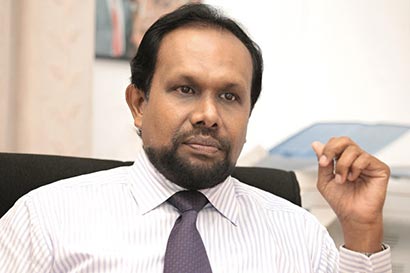 After the 18 complaints received against former CMC member Azath Salley are investigated, steps will be taken to release him, Director General of the Media Centre for National Security, Lakshman Hulugalla stated.
Azath Salley began consuming food since last afternoon he further stated after the former CMC member had refused to eat following his arrest.
Speaking at a press conference held today in Colombo (May 6) Hulugalla said that Salley was questioned regarding a statement he had made against Sri Lanka in Chennai, Tamil Nadu.
He added that it is unjustifiable to make a comment against the country to another country while stating that the Muslim people have not told anyone to make statements like this on their behalf.
Hulugalla said that the statements made by Salley have insulted the Muslim people of the country.
The CID are investigating 18 complaints including the statements allegedly made by Salley in Tamil Nadu and an alleged financial fraud.
Hulugalla earlier stated that Salley had also flared racial tensions in the country. When the Director General was questioned by journalists as to why the actions of the Bodu Bala Sena (BBS) were not met with similar responses by the government, he replied stating that the BBS had not been involved in any activity of that nature.
(Courtesy: Ada Derana)